DC Fancast: A day at SKY studios! [PHOTOS]
Sky1 has essentially become the UK's DC Superhero channel – airing all our favourite DC TV shows for the nerdy masses. Arrow, The Flash, Legends of Tomorrow and Supergirl have been broadcast by the satellite provider since their pilots. Though Supergirl is broadcast on a different network ( ABC) to the other shows (CW) in the US, they are made by the same producers, and it seems only right that they should be seen together and discussed under the same umbrella. In terms of the latter, The US seems ahead of us Brits in formalising those 'theory-crafting' discussions into media content, with official after-shows on AfterBuzz TV and Collider for example garnering hefty web followings for DC TV and other series like Grimm and cable TV channels such as AMC actually airing their own discussion shows, like The Talking Dead for their comic-based hit series The Walking Dead. Here in the UK it seems only reality TV like Great British Bake Off and The X Factor are deemed worthy of this.
So when I found out Sky had decided to make their own after shows DC Fancast and DC Fancast: Unmasked for Sky on Demand, I was elated and eager to see what they would produce.
The show does not disappoint – each 11 minute episode covers all DC shows currently airing (in the UK) asking fans their theories and showing fan art as well as them presenting some of their own, with preview clips. It's a fun, short and sweet format presented by Rick Edwards with comedienne Bec Hill and pop artist Des Taylor. Alongside this DC Fancast: Unmasked goes behind the scenes at Vancouver Film Studios to give viewers exclusive on-set interviews and Easter eggs from the casts and crew.
I was lucky enough to get an invite to join the Fancast audience for episode 7.
Cosplay is encouraged so I turned up at Sky studio 2 looking slightly out of place in my DC fangirl dress. I joined 30 or so other fans for a special preview screening of episodes to be discussed ahead of their UK airdate. The small cinema was cosy, with popcorn and drinks on hand we soon settled in to watch Arrow, The Flash, LoT and Supergirl.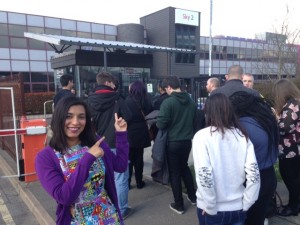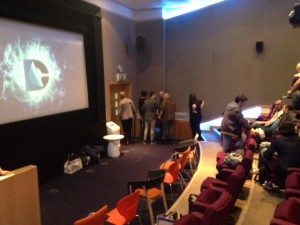 After this was some group analysis and decision on topics for the Fancast. The fan discussions continued over dinner, with speculation over *SPOILER ALERT* the new direction for Olicity's relationship and the loss of the Heatwave/ Captain Cold bromance in LoT.
Then it was time for filming! Entering the studio it did feel DC-esque with a particle accelerator backdrop and fan art displayed on the walls, plus some very recognisable costumes!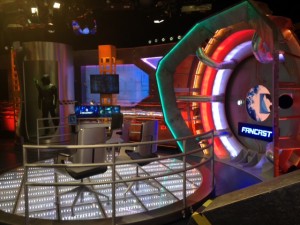 Nicknamed the Banter Bunker by presenter Rick Edwards, the chat and laughter started way before the cameras rolled. It was clear to see the presenters were DC fans. The banter was hilarious if a little dirty- I'd like to see what their blooper reel looks like!
Though I can't talk about content – you'll just have to watch it!- we did get to see exclusive interviews from the LoT set which was exciting.
After the recording we hung out in the studio taking pictures, chatting with the presenters and exploring some of the cool props brightening up the set. I discovered Bec Hill and I had the same reaction to meeting Wentworth Miller on set- losing the ability to speak and just staring!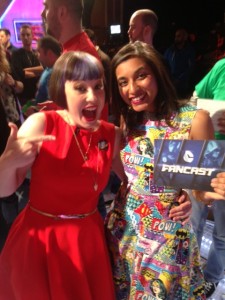 To top off an incredible day we each received goodie bags – mine included a Man of Steel DVD and The Flash mug – needless to say I was very happy!
Check out my pics from set in the slide show below!
I'm interested to see how the Fancast progresses, and will certainly be back on the show. I hope, like with the TV shows themselves, ratings increase and we see more spin offs for fans to enjoy. It's another nod to the mainstream popularity of traditionally cult, genre shows and I hope this continues.
This slideshow requires JavaScript.
What do you think of DC Fancast ? Would you be interested in starting a DC after show? Let us know your thoughts here or tweet me @tanavip
DC Fancast and DC Fancast: Unmasked are currently available on Sky on Demand, or can be accessed via the Sky Go app.
The Flash airs Tuesdays, Arrow Wednesdays, LoT Thursdays and Supergirl Fridays, all on Sky1 with catch-up on Sky2, in the UK.