ARROW's Cynthia Addai-Robinson on her hopes for Season 4 [VIDEO]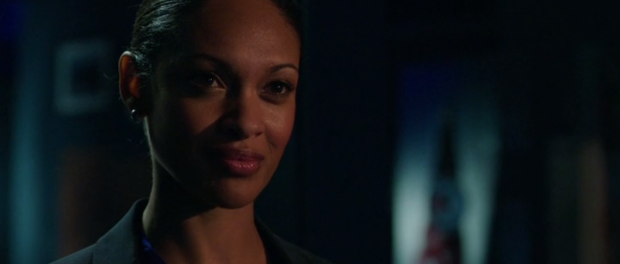 Arrow's Agent Waller took a break from A.R.G.U.S. to meet and greet fans at London's MCM Comic Con last week, accompanied by 'The Flash's Candice Patton. It was a real pleasure to see Cynthia Addai-Robinson smiling and enjoying herself – methinks Waller would not approve!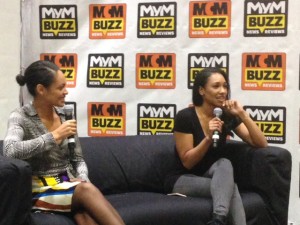 We sat down with her to pick her brain about what her cunning character has up her sleeves this season…
We also got the chance to speak more about 'Arrow' earlier on off-screen, so here's a little extra scoop:
Cynthia would love to get in on the action (she had special forces training for her role in Spartacus)
She really liked her scene with Emily in episode 221 (where Felicity geeks out over A.R.G.U.S.'s advanced computers) as she loved meeting and working with Emily, doing a lighter scene for a change.
Agent Waller's major presence in the DC universe gives her character the potential to cross-over into other DC shows – and Cynthia is ready!
Cynthia is in a couple of episodes so far this season. It seems she's only shot flashbacks so far.
When season 3 ended with Waller being shot, Cynthia really thought that was the end for her character. We are so glad she wasn't killed off!
Cynthia doesn't know if Waller will be handing the A.R.G.U.S. leadership over to Lyla.
She'd love to be able to see more of Waller's background explored on the show, but it would be difficult with the other new characters and new villains constantly being introduced. It's also unlikely that we will see much of the suicide squad this season, as producers will want to keep things separate from the new movie coming out. Plus actor availability is a major factor. I for one would love to see a Waller-centric episode!
Cynthia would love a scene where her character smiled, or had a glass of wine and let her bun down! But it has to make sense within the story.
Stephen Amell is fun to work with and gives Cynthia the lowdown on what's happened in the show each time she returns, as she doesn't get the scripts in-between.
Cynthia's favourite scenes are when she gets to shoot a gun, such as at the end of Season 3, and anytime there are more of the cast in the scene e.g. in episode 221.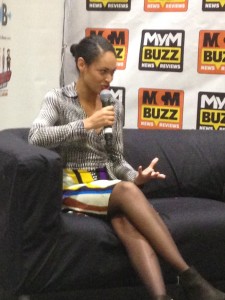 Check out my chat with Candice Patton from 'The Flash' here.
I also recommend you watch Cynthia in the History Channel mini-series 'Texas Rising' alongside Brendan Fraser and fellow Arrow alum Robert Knepper.
We'd love to hear from you – comment here or tweet me @tanavip! Check back soon for new BTS goodies from your favourite DC shows including 'The Flash', and more from the Con!