TELL ME YOUR LIES: Interview with author Kate Ruby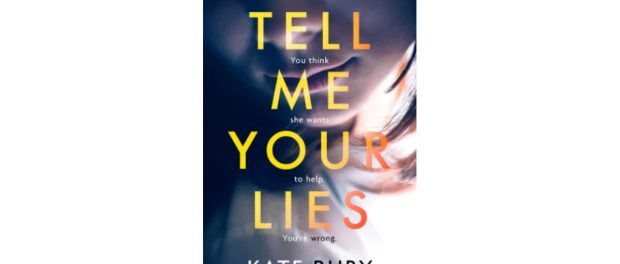 Tell Me Your Lies is a psychological thriller following the lives of three intertwined women as therapy seeks to unravel their secrets, and their lives. Though a first-time novelist, Kate Ruby has been hugely successful writing, producing and adapting books for British TV dramas for many years, including smash hits like Being Human, Rome, Spooks and BAFTA-nominated The Girl Before.  So it's no surprise her book is already causing a buzz, and Fanisma met up with Ruby at her Soho book launch to find out more about this dark and "deliciously twisted" debut that's difficult to put down:
You're a well-known writer, from TV shows such as Spooks and Being Human but this is your first novel. What made you move over to writing a full novel?
KR: I find working with writers and creating shows such an extraordinary privilege, I've worked with some best-selling books like The Girl Before which was on HBO at Christmas, and I really wanted to try my hand at it, and in fact the idea from Tell Me Your Lies was originally a television idea, in that I read about a real case which it's very very loosely inspired by, about this high-end therapist who infiltrated high-end families and effectively separated their daughters from the parents, but has never been charged with any crime, and for those families she's been very much vilified. So with my work in TV I just knew that was a great TV premise. So I talked to a couple of screenwriters about it and nobody could work out the multi-seasons aspect of that, so I thought "screw it I'm going to write it myself!"  So then I wrote it very slowly around my day job for around 2 ½ years and then there was a big offer from Simon and Schuster and then it got published and now there's a 5-way bidding war for the TV rights!
So it might become a TV series anyway?
 KR: Yeah! I would hope so.
It is quite a dark psychological thriller, so how would you describe the premise?
KR: It is about daughter Rachel who is in her late '20s and is really kind of going off the rails. As a last resort her mum Lily enlists this sought-after therapist Amber who is whispered about in her West London circles. At first it seems like the perfect solution, then gradually Lily starts wondering whether Amber's motives are darker than she initially could have ever imagined. Meanwhile Rachel feels validated and is getting more on her feet as a result of Rachel's counsel. As the narrative goes on we start to wonder who is really pulling the strings here. All three of those characters, but particularly Amber and Lily, have secrets, so it becomes a battle for Rachel's soul I would say.
As we know no family is "normal", so is there any particular experience you drew from to work on the family dynamics?
KR: I myself have had a lot of therapy, both the traditional talk therapy but also slightly more out-there things like the Hoffman process which is an eight day residential process. I've even done psychedelics in a therapeutic context. I really wanted to write about both the good and the bad in therapy and I think ultimately it's a story about self-actualisation and finding yourself but it's a complex journey that Rachel goes on, that she doesn't need to go on. She needs help at the beginning of the book and she does get that help, but not as she expects.
So should we expect a happy ending?
KR: Ha ha it's a hopefully compelling ending, I don't know if "happy" is the right word but yeah.
In terms of where you see this book going are you looking at a sequel?
KR: I'm certainly looking at a second series! We'll see whether that means a sequel, but I'm actually writing the second novel in the deal when Simon and Schuster signed me with this, which is an entirely separate story.
If it does become a TV show are there any particular scenes that you would hope to see visualised on screen?
KR: That's an interesting question. I think Rachel has a moment in the first episode, we have plotted it out, where she really kind of falls off a cliff and I think that will be a kind of compelling and slightly car-crash moment where you'll be like "please don't do this" so that I look forward to. And I think that the end is kind of an air-punch and I think the audience will really enjoy that, and my hope is that all three of those quite complex troubled characters Amber, Lily and Rachel you will really invest in and really understand even if they do some really questionable things.
What else are you working on at the moment?
KR: As an executive producer I'm doing an adaptation of Beth O'Leary's novel The Flatshare which was a bestseller particularly during lockdown, so that is my priority TV-wise.
I'm going to ask as a fan of Being Human – and it is the golden age of TV where lots of shows are making comebacks – will we see another series potentially?
KR: Wouldn't that be the dream! Maybe? I don't know if anyone's going to get Aidan [Turner] back but maybe! It would be kind of a different show with 40-something flatmates.
I would love to see that!
KR: Me too, let's do it!
Tell Me Your Lies is out now, published by Simon and Schuster. Paperback original £8.99
Image credit: Simon and Schuster UK