THE FORMULA E SERIES: Nicki Shields Interview!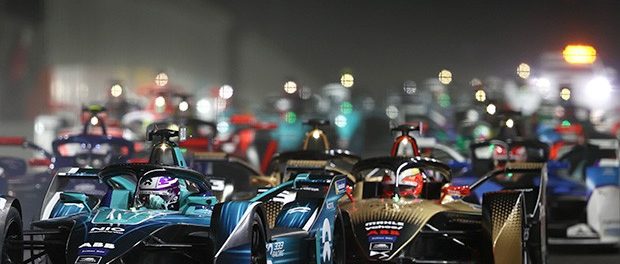 Formula E: 16 races, 10 cities, 8 seasons and all-electric! 
Even if you haven't seen Formula E before you've more than likely seen Nicki Shields on your TV. As a seasoned presenter on everything from The Gadget Show Live to Goodwood Festival of Speed and even Escape to the Country, Shields has been the face of the FIA's Formula E pitlane, now on Channel 4, since the start. And with a special interest in science technology sports and automotives, she's the perfect fit. Fanisma caught up with Shields trackside to discover more about her sporting scoops, fast-paced future and life in the pitlane.
As the fastest-growing motorsport fans are joining Formula E all the time. What do you think makes Formula E stand out?
Gosh so many things! Putting aside that the power train is electric, that is so unique on it's own,  but I think as a racing fan you just have to watch it as a sport, it's just a really exciting wheel-to-wheel race, and you get that week after week, month after month. Because they are street circuits that we race on in some of the world's most iconic cities, you've got this incredible backdrop, from the historic Templehof airport [in Berlin] to the New York City skyline, we've just been in Monaco, so there's so much to look at around the race track, and then when you look at the race track as well there's all these tight twisty street circuits. Their walls are very unforgiving! As a racing driver I think that sets them apart, so one mistake and you pay for it, but as a viewer and a fan, that makes it very entertaining because we get to see a fair amount of crashes. It's not something you wish for a driver but it does make it very exciting. And the way the Formula E cars have been designed, because they are electric, you have this instant acceleration, so they're not only fast on track but the acceleration is quick, so you get a lot of overtaking, and that's what everyone wants to see. You want to see passes happening, you want to see overtaking, you want to see people having to defend, having to attack – and that's what you get in Formula E so it's always really exciting.
And it's electric! We started in 2014 when the electric consumer cars on our roads were pretty slow, there were very few to choose from, they were definitely not cool and sexy, and I think Formula E came to say "Hey guys! Actually electric cars can be cool, can be fast, and we are sexy". Consequently there has been a huge evolution in our road cars and now we can see some of the greatest fastest sexiest road cars are electric.
When you're in the pitlane as a reporter, are there any particular dos or don'ts down there?
Yes many! Don't annoy the drivers too much but do always ask the probing question. So obviously I'm there to get the story out of the drivers so we're the eyes and ears on the ground for the audience at home, so we do our best. We pride ourselves on the relationships we have with the drivers, the team principals, engineers, mechanics, you know, I can go into any garage and no question is too stupid, because we need to know all the information so we can relay that to the audience otherwise if we're not telling the audience they're not going to find out. Ultimately you are with those drivers through the highs and the lows, so if they've won a race or on a podium or got pole, and that's the easy part, but you're also there to tell the lows. That's the point of being able to build on the relationships we have. Even when things have gone wrong or there have been crashes or the performance hasn't gone well, the drivers will still speak to you and you're there to tell that side of the story as well, and the arguments and drama and emotions that come with it. That's whatI enjoy most about the job.
What is the vibe like among the crews in the pits?
When you're walking around pre-race, it's a very welcoming friendly paddock. We call ourselves the Formula E family and it really is that. A lot of the drivers are friends. A lot of them live in Monaco together, they hang out together, they talk about the championship together, so it is a very friendly atmosphere. We have shared team and crew catering. In most other championships you eat with your team, never altogether, so that's a small example of how it is one big family. Having said that though, just because they're friends when the helmets are off does not mean they're friends when the helmets are on! When they're in the cockpit it's down to business and elbows out. The friendship is left in the pitlane. It's a very competitive grid and  everyone is here to win, and to make an impression, which makes it very exciting.
This season has there been any driver that's particularly surprised you at all?
This season, I don't think he's surprised me but I'm just pleased for Stoffel Vandoorne. He is a driver with incredible pedigree – came from Formula 1, raced for Mercedes, he now comes into Formula E. Mostly due to a bit of bad luck he didn't have a very good season last year, then obviously his team mate [Nyck de Vries] took the driver's championship title which is great for the team but when it's not you it's not ideal, so I'm really glad he's turned things around. He had a very emotional win in Monaco, because everyone wants to win in Monaco and also he had a lot of pressure on him to start delivering results, and finally that happened, so he's one to watch this season. It's good to see Jean-Eric Vergne back on top and Robin Frijns as well. Robin is interesting because he has won 2 races I think in his first season and hasn't won a race since. He's come second like 5 times. So always the bridesmaid never the bride. But he's a very consistent driver. And actually consistency in Formula E is what wins you the championship, it's not winning races, so he could go on to win the championship without winning a race so he can also be one to watch.
Do you have a favourite racing track?
I think it has to be Monaco. It is such an iconic location and track. There's so much motorsport history there. It's a place where every driver wants to win. It's a place where every reporter/ presenter wants to work at. And you can't help but feed off the incredible vibe that it brings. So many fans come out to watch, and everyone is so passionate. So I think it has to be Monaco.
There's quite a bit of crossover between Formula 1 and Formula E drivers, would you agree?
Yes absolutely. We've got a lot of former Formula 1 drivers, we've also got a lot of endurance championship drivers, Le Mans winners. DTM winners, so I think basically the highest calibre of drivers come to Formula E, and vice versa I think we'll start to see drivers coming in to Formula E and then moving across the other way. So I think it's just a reminder we are considered among the top racing championships in the world.
How do you rate yourself as a driver?
Obviously very good ha ha! I'm a terrible backseat driver. I really enjoy driving and I wish I was better. As a young girl I always thought I was going to be a Formula 1 racing driver. That dream didn't quite come true but I do enjoy driving. I think if I was put in a kart next to anyone in the Formula E paddock I'd probably end up losing – but I'd have more chat than actual performance.
Outside of Formula E what are you working on at the moment?
I am one of the founding members and associate editor of Electrifying.com which is a digital platform for everything you need to know about electric cars. It's a kind of one-stop shop to educate. If you fancy buying an electric car, if you want to test-drive an electric car, if you want to understand what it's like to live with an electric car, we are the place to come. We are "demystifying" because I think it is quite confusing for people who are new making the switch to buying electric. So that's a big project for me at the moment. And then really just keeping my 2-month old baby alive!
Talking about the female members of Formula E do you think we will see any female drivers anytime soon?
I don't when but we definitely will see it. We've had female Formula E drivers in the past – Michela Cerutti, Simona de Silvestro, Katherine Legge who's British but now gone to America – so I'm sure it's set to change, but with all of these things it takes a lot of time. With W series being set up, the all female racing championship, then there's the FIA's "Girls on Track", they also have their own female karting championship, with all of these it's just going to take time for the talent to filter through. There isn't that pool of talent at the moment and ultimately, and I think that it's very important, that ultimately every driver is picked because of their performance and their capabilities rather than their sex. They need to be in that position based on merit, and obviously if there's a much smaller pool to choose from it's going to be a lot harder for the top 20 drivers in the world to have a female. But the talent pool is massively changing from a grass roots level; it's going to take time to see that filter through to the top tier stages. But it's exciting!
To finish off here's a few fun "who's most likely to" quickfire questions about the Formula E drivers:
Who's most likely to crack everyone up with a joke?
Antonio Felix Da Costa!
Who's most likely to get the biggest cheer from the crowd?
Stoffel Vandoorne. Wins FanBoost every race!
Who's most likely to cry or get emotional vs keep a straight face on the podium?
The two that have actually cried on the podium recently are Stoffel Vandoorne, and Nyck De Vries when he won the championship. I'd say one of the most emotional is actually Jean-Eric Vergne but that's more like angry, frustrated emotion. Most likely to keep a straight face? Alexander Sims.  I've no idea what emotion he's feeling. If he wins he looks exactly the same as if he's just lost. Identical!
FIA's Formula E Championship is currently airing on Channel 4 in the UK and highlights are available on demand on All 4. Visit fiaformulae.com for more ways to watch and official information on the sport.