Walker Stalker Con London: My Highlights
As a 'Walker Stalker virgin' I didn't know what to expect of my first Con dedicated to the huge hit show 'The Walking Dead'. With it also being the first WSC outside the US I imagine that feeling was somewhat reciprocated by the WSC team, but the first thing I received was a warm welcome at will call, and that set the happy atmosphere for the rest of the weekend 🙂
"You Brits are so polite, and you don't mind queueing!" was one of the first comments I heard from customer service manager Cindi. That sentiment was reiterated by the cast and crew throughout the Con. But the London show expectedly attracted a cosmopolitan fanbase, with attendees from around the world including South Africa, Germany, Kuwait and USA. With them they brought a rich array of quality questions, which enhanced the Q+A sessions.
In addition to the cast panels, there were a variety of stalls selling all things nerdy, as you'd expect at any good Con, the WSC Live stage with host Dave Solo conducting really entertaining one-to-one interviews with the stars, and even a Zombie Apocaplyse run where you could experience the terror of being chased by Walkers!
Of course there were also opportunities to meet the stars in signings and photo ops. In all the Cons I've been to Norman Reedus and Andrew Lincoln may take the cake for longest fan lines!
Many shows claim to have the best fans ever but I think TWD family would definitely medal in that poll- the sheer number attending a single-show Con in a hall made to house an entire Comic Con (check out LFCC), the effort made with presents and costumes, the remarkable fan videos, some of which were shown on big screens between panels (see below), their social media presence and the love shared between castmates and fans alike was an eye-opener for me.
Here are some of my highlights:
1) Chatting with young fans – do their parents really allow them to watch TWD?
2) Seeing some amazing cosplay and the fans enjoying well deserved appreciation for their efforts
3) Interviewing Lawrence Gilliard Jr aka Bob, as he got the crowd to shout "tainted meat!"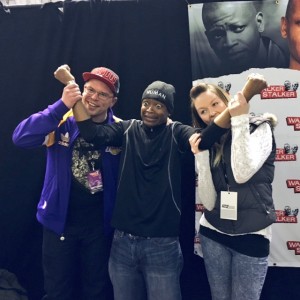 Be sure to check out our interview videos coming soon!
4) Hearing about some of the thoughtful and unusual gifts given to Norman Reedus – including a squirrel-print tie, a small painted cock (a male chicken – not that!) and a hand-made book full of erotic fan art featuring Darryl and Rick!
5) Interviewing Tyler Jesse Williams – he's as sweet as the sweets he was eating 🙂
6) Watching the Andrew Lincoln/ Norman Reedus panel – Andy was a smooth talker with good well thought out answers; Norman used his knack of jumping in and stealing the scene. The chemistry between the two was unmissable and I'm so glad I was there to witness it! Check out my Twitter @tanavip for more clips and photos from the panel.
#WSCLondon @wwwbigbaldhead on @chandlerriggs facial hair pic.twitter.com/uQX6JGLu7s

— tanavip (@tanavip) February 21, 2016
The panel had to be ticketed (to keep numbers within regulations) but they decided to donate all the proceeds to charity of Andy's choosing. So fans got Andy, Norman and a charitable act under their belt for the cost of a sarnie – bargain WSC!
7) Norman's antics  – like spraying silly string over a crowd of fans under his balcony!
8) The WSC Live stage – it was a laugh-a-minute with Dave and guests like Sonequa Martin-Green and Josh Mcdermitt, and Ross Marquand doing impressions:
#WSCLondon @RossMarquand does Christopher Walken impression! pic.twitter.com/VBJEQ54wbU

— tanavip (@tanavip) February 21, 2016
Check out more from Dave on TWD at walkernation.net
9) David Morrissey's panel – I was surprised to find out Andrew Lincoln and David played golf in their down-time in a wood full of snakes!
10) Chatting with the amazing staff and volunteers that make these events possible. In case you didn't know they are also the same team behind Heroes and Villains Fanfest. You can see their upcoming events here. Check out our slideshow with exclusive photos from the event, below.
This slideshow requires JavaScript.
Walker Stalker Con returns to Dallas next on 4th March. Click here for more info.
For more media/ video from the event check out fanfest.com
Check back soon for our interviews with Lawrence Gilliard Jr and Tyler James Williams!
TWD is on AMC channel on Sundays in the US, and on Fox  channel on Mondays in the UK