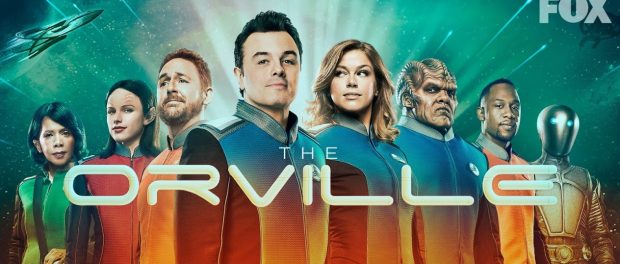 As The Orville prepares to dock on UK screens with its Fox channel premiere on December the 14th,  it's time to decide if you want to jump on board. I wholly recommend you do – it's a wild, funny, flirtacious even educational ride!
It follows the crew of Union spaceship The Orville who set out in 2418 to explore uncharted space. It is one of only a handful of new shows this season to become a hit and has already received a season 2 pick-up. Though fans have given it >90% approval rating critics have been much less impressed, but why?
There is no denying The Orville reuses well-known Star Trek storylines, but it creates a fresh take infused with humour and updated for the modern world. As a Star Trek uber-fan Seth Macfarlane knows what has worked in the past and suspect he has a well-laid plan that will keep TNG lovers, Family Guy fans and newbies enthralled.
Others have had trouble deciphering what kind of show The Orville is – in part due to misleading promos – expecting a sitcom and receiving a drama. Seth MacFarlane describes the show as an optimistic dramedy.  But why can't The Orville toe the line between different genres? Chuck did it superbly and garnered a huge cult following for its efforts. This show could potentially plug the hole left in Chuck fans' hearts (myself included) if it navigates that space carefully.
Even if you don't like Seth's humour the jokes are occasional, toned down and well-placed. Though they don't always get you giggling they do help to set a warm tone that is perfectly placed and well-needed amongst the plethora of depressing dystopian futures that Star Trek: Discovery and other sci-fi shows portray.
It's been hailed as most similar to Star Trek: The Next Generation and applauded by many fans of that show who have been eagerly awaiting a new iteration of the '80s hit. The Orville uses its opportunity to pay homage to Star Trek, with Robert Picardo and Jonathan Frakes appearing and directing respectively.
However you don't need to be a Trekkie to enjoy this.  The characters are immediately engaging and relatable, the kind you would want to share a beer with and root for. It's impossible not to laugh at Isaac (played by Mark Jackson), an artificial lifeform who is the most intelligent being on the ship but doesn't get the concepts of humour and personal bonding, or be intrigued by all the things Bortus (Peter Macon), an alien from an all-male species, can ingest. At the heart of the show is the rocky relationship between new Captain Ed Mercer (Macfarlane) and his first officer/ ex-wife Kelly (Adrianne Palicki). The show gives almost equal time to its main cast of 8, which gives strength to the show rather than relying on a single lead.
Don't be surprised to find the series is mainly a thought-provoking drama which tackles hard issues without being preachy – gender reassignment, theological dictatorships, alien cultural differences and the dangers of 'trial by social media'. "We do take the job seriously of telling actual sci-fi stories that have relevance" MacFarlane explains.
One thing the show does share with sitcoms is its episodic rather than serialised nature. "I think there's been an absence of optimistic, episodic sci-fi recently" says MacFarlane. " The Orville sets out to fill that void."
The production value it pretty great – MacFarlane's team uses models of the spaceship rather than just CGI to give the ship a more intricate sharp appearance, as well as over 5000 prosthetics to create the alien looks.
And if that's not enough the cast is gorgeous and there are guest stars like Charlize Theron,  Liam Neeson, Victor Garber and Rob Lowe as a spurting blue alien!
Check out the trailer below:
Watch out for The Orville on Fox channel in the U.S and in the U.K.  Season 2 of The Orville is due to begin production in February and will likely air in late 2018.
For news on the show follow @TheOrville on Twitter.