TIMELESS: Season 2 finale interviews! [VIDEO]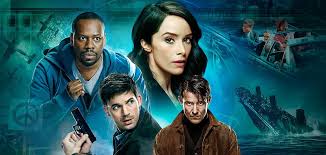 After a very close shave with cancellation, the time team came back for season 2 with a bang. Despite several production changes, the NBC drama about time-travel and espionage has maintained it's fantastic mix of period glamour, thrilling twists and whimsy.  Straight from the set of the season finale, series regular Goran Visnjic talks about his lighter turn from villain to joining the team, the origins of the diary, downgrading to the Lifeboat, his relationship with Lucy a.k.a. Flucy and the 'mind fuck' we can expect in the season finale!
"This show is ultimately about people coming together to create their own family" explains showrunner Shawn Ryan. Shawn discusses the tumultuous events surrounding the renewal of Timeless, the production changes moving into season 2, some epic set pieces, parallels between Flynn and Wyatt, and the losses the team endure. So just how bad is Rittenhouse? Plus we discuss the perils of dating a time-travelling co-worker… check out the full videos below:
Timeless Season 2 continues on Wednesdays on E4 in the U.K.
The Timeless 2-hour season finale will air in the U.S. on NBC on May 13th.
As of yet there is no word on Season 3, but NBC is expected to announce its renewals/ cancellations at upfronts on May 14th. Eitherway one thing we can certainly expect is an avid renewal fan campaign!