TROLLHUNTERS PART 2: Preview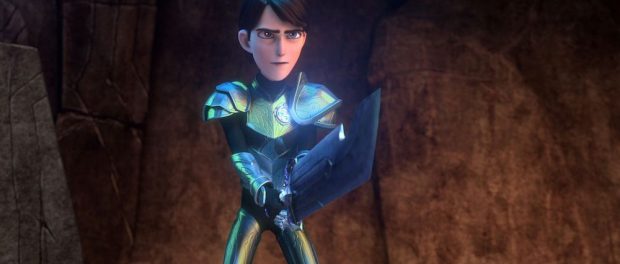 With the Netflix release of Trollhunters Part 2 upon us, it's time to catch up with the amazing Emmy award-winning series from the legendary Guillermo Del Toro. (Check out my season 1 review here).
This beautifully crafted animation is a runaway hit, with kids and adults alike chomping at the bit to find out what's next for Jim Lake Jr. and his merry band of trollhunting misfits.
When we last saw Jim, he had just entered the Badlands alone in a souped-up suit of armour. EP Marc Guggenheim revealed that Jim will still be separated from his buddies from the outset, and it may be some time before they reunite. "The first episode of season 2 opens with an homage to the pilot, and opens in a way you probably least expect given the way season 1 ended" he told us ominously. SEE our full interview with Marc Guggenheim about season 2 here.
"It's incumbent on us writers to come up with a satisfying and unexpected resolution of those cliffhangers" EP Marc Guggenheim recently told Epicstream – and we can't wait to see them!
Here's what we know about season 2 so far:
It's called Trollhunters Part 2: Tales of Arcadia and is a 13 episode season.
Claire and Toby will have to come up with creative ways to cover for Jim's absence.
Expect Gunmar's presence throughout the second season.
Jim's new armour hasn't just changed colour – armed with his own infinity stones it will give him exciting new abilities.
For all those distressed that AAARRRGGHH!!! was turned to stone, fear not! He will be alive and rocking in season 2 as the trailer reveals:
The trailer also suggests Jim's real world of Arcadia and troll world will be colliding with classmate Eli uncovering the truth.
It looks like all the original favourites will be back, and personally I can't wait for the Blinky/ AAARRRGGHH!!! reunion, but new characters will be also be introduced, with Luke Skywalker himself Mark Hamill, as well as Game of Thrones alumni Lena Headey and David Bradley voicing some of the new additions.
Jim and co. will have to contend with Gunmar's cronies (one of whom Hamill voices) and a new troll council of elders including Queen Usurna (voiced by Angelica Huston), not to mention some new villains like the Janus Order and the mysterious Pale Lady. They certainly have their work cut out!
Strickler's evolution is not finished. The creepy changeling is currently in 'chaotic neutral' as Guggenheim puts it, so fans will find out whether he remains good or reverts to bad next.
There will be homages to some classic movies like Fuerris Bueller's Day Off.
Of note the late Anton Yelchin will still be voice of Jim as he completed the new season prior to his passing.
Trollhunters Easter eggs were spattered throughout the Arrowverse in season 2 and producers hope to continue that trend. So watch out for Nougat nummies mentions!
The full second season of Trollhunters lands on Netflix on the 15th of December.
For more from the creators of Trollhunters Part 2 click here.