TROLLHUNTERS: New Series Review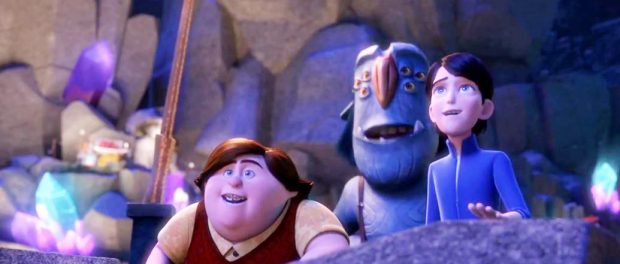 If you're a fan of Dreamworks animations like How To Train Your Dragon then you might want to load up Trollhunters next on Netflix. And not just to spot the Toothless cameo in one episode.
Created by Hellboy director Guillermo Del Toro and produced by, among others, DC TV super producer Marc Guggenheim, this new Dreamworks animated TV series was given almost as much launch buzz as a movie, even receiving a big LA premiere. Presumably there's a movie budget to match as there's no skimping on the brilliant quality animation we've come to love from the studio behind Shrek. Plus it features the vocal stylings of some big talent names like Tom Hiddleston, Kelsey Grammer, the late Anton Yelchin and The Walking Dead's Steven Yeun who is unrecognisable as blonde bully Palchuk!
Based on the books by Guillermo del Toro and Daniel Kraus, the story centres around Jim Lake Jr, a typical good-natured 15 year-old boy who spends his days caring for his mum Barbara (a single mother and overworked doctor) playing with his best friend Toby and pining over cool girl Claire, until he one day discovers an amulet. It turns out the mystical object has chosen him to be the first human Trollhunter, a sacred warrior who protects good trolls from Gumgums (evil trolls) and other dangers. It's a lot to take in for Jim but with the guidance of trolls Blinky and the wonderfully-named AAARRRGGHH!! and unwavering support from Toby he starts to flourish in his new life as protector of the underground city of Troll Market. Trolls turn to stone in sunlight, but Trollhunters can harness sunlight to power magic armour and weapons in a classic battle of light vs darkness.
Del Toro's passion for monsters and myths alongside his exploration of Guadalajara's sewers as a child inspired his vision for Trollhunters. The show does a great job of quickly laying the groundwork for this fantastical world of trolls, goblins and gnomes whilst maintaining mystery with more reveals and cliffhangers in each episode. Unlike most comic/fantasy book heroes, Jim is not a tortured soul but rather a well-balanced good kid who looks after his loved ones and is not hung up on his absent father. It's refreshing how the writers amusingly acknowledge this. It is surprising he is not already one of cool kids but he becomes one when his adventures dethrone bully Palchuk as a byproduct and get him nominated for Spring King.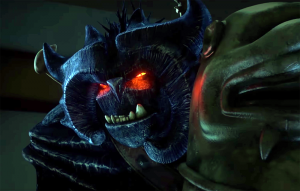 Though the premise may sound childish and character names like Blinky, AAARRRGGHH!! and Gumgums will appeal to viewers below reading age, Jim & co wield magic in a way that'll appeal to a much wider range of viewers. The fast-paced dialogue, and colourful characters make it one to watch for the family. The pedigree of the creative team and the quality of previous Dreamworks TV fare should allay any fears that this won't keep older viewers entertained as well.
Guggenheim has compared the character development in Trollhunters to that on Arrow. Certainly, just because a character starts out as a villain doesn't mean they'll stay a villain throughout, and those who do have more shades of grey than you'd normally expect in a show like this. (Guggenheim has also inserted some Trollhunters Easter eggs in Arrow season four and Legends Of Tomorrow episode 211 if you want to try to spot them.)
The tiny gnomes have mannerisms reminiscent of Ewoks and supply plenty of comedy moments. They are regarded as the vermin of Troll Market – but also double as darts! Kelsey Grammer as Blinky excels as a witty intellectual bon mots not dissimilar to Frasier Crane, and watch out for a crooked baby-sized changeling hilariously named NotEnrique (Enrique being Claire's baby brother whom NotEnrique has replaced).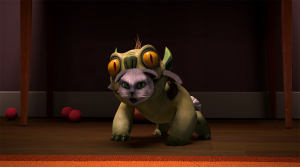 Lines like "Fools play for glory but we play for AAARRRGGHH!!" really get you cheering for Jim's team. Blinky shouts this before an epic game of "Pyroblixt" in episode 23 that will immerse you like a sprint final and definitely deserves a rewatch.
It's also fun how the characters take the mickey out of themselves, even referencing the fact they always wear the same clothes.
The late Anton Yelchin does an impeccable job as Jim; a sad note in an uplifting show. Though another actor was brought in to finish some of Jim's lines when Anton passed mid-production he is still credited solely with the lead role, and the producers were very keen to honour his memory. There is no news yet on who will replace him should the show be renewed.
You might expect to encounter a few plot holes in a fantastical show trying to merge two worlds, with plenty of mythology and a large cast, but del Toro's team do a pretty seamless job in each 22-minute episode of moving the serialised story along while explaining the world they've created and dealing with the "battle of the day".
Go on, try out a couple of episodes. We think you might be hooked before long.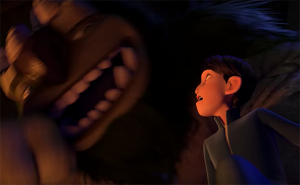 Trollhunters Season 1 consists of 26×22 minute episodes, available now to stream on Netflix.