MURDOCH MYSTERIES: Set Tour! [VIDEO]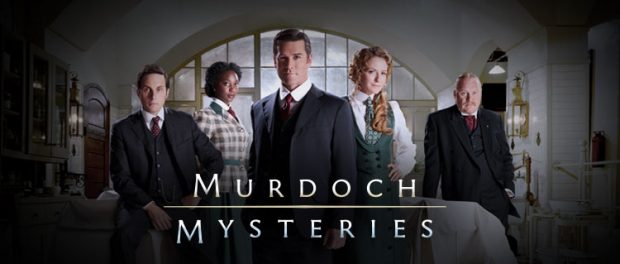 In an era when TV series rarely run past five seasons as network execs are reluctant to renegotiate contracts, production budgets are dwindling, and traditional television is competing for audiences across different viewing platforms, one Canadian period crime drama has survived the test of time. 
Murdoch Mysteries was originally adapted into TV movies from the novels by Maureen Jennings, about a gentleman detective with a penchant for solving crimes with science in turn-of-the-century Toronto. Then the show's original broadcaster CityTV decided to refashion the stories for series television.
The show premiered in 2008. Ten seasons, over 130 episodes and a network change later, and Murdoch Mysteries remains a stalwart in the CBC schedule (Canada's equivalent to the BBC) inspiring spin-off series, games and even fan events.
I was privileged to visit set on the last full day of filming for season 10 to meet the cast and crew and learn what it takes to make the show.
On a cold December day in Scarborough, Toronto  we receive a contrastingly warm welcome as we arrive at the production offices, where some of the show's heritage was on display in the form of posters from previous years.
Thomas Craig, who plays Inspector Thomas Brackenreid, soon met us for a tour of the sets (below) before giving us an interview on set (WATCH the interview here).
BE ADVISED SEASON 10 SPOILER ALERT!
Later we get the opportunity to watch filming of scenes from the penultimate episode of season 10, in which Murdoch and Brackenreid discuss a letter, and Murdoch interviews a group of ladies involved in a roller derby-related murder. Turns out Hélène Joy is a pretty good skater!
There is an easy atmosphere on set and plenty of banter between takes. "Welcome to Canada, we're still Trump free!" producer Peter Mitchell jokes with another guest. Mitchell amusingly describes how his daughter has collected and displayed her Halloween candy but not eaten it, and won't allow him to. "She's collected it, she's catalogued it, she's inventoried it. I took a chocolate bar – she caught me."
Producer Stephen Montgomery adds, "My neighbour used to take 90% of the kids' Halloween candy and put it into the freezer in a bag. Then every time they tripped or fell she'd go into the freezer and give them a candy, and they had no idea. It would last all year!"
The fun mood is perhaps helped by the fact that production is unusually ahead of schedule. Mitchell compares it to being the last day of school, with cast and crew already celebrating their upcoming break. Indeed, there are plenty of doughnuts about and balloons in the production office, and a Santa hat sits atop the main camera. Since Mitchell took over as showrunner, he has typically directed the last episode block on Murdoch Mysteries (they tend to shoot in blocks of two), and traditionally schedules an easy last day to allow cast and crew to wind down.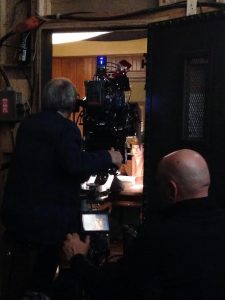 Simon McNabb, who co-wrote the episode, is also watching the shoot. He explains that roller derby was quite a craze in Victorian times. "It started around the 1870s, died out and then came back. It seems like it resurges every 30 years."
It's not often that writers come to set, and it's fun seeing Simon's script come to life as we watch Murdoch interrogate a sassy lady Simon describes as a "naughty Victorian". "This is something that happens every episode," Mitchell adds. "At some point in the day we go into this (interrogation) room and we spend half our day right here."
He also explains that there's no special camera used to give the show its authentic sepia look. "It's done post production in colour correction, and it's also to do with the way production design the colour palettes that are used."
Simon also wrote episode 10×04 which introduces Daniel Maslany, Tatiana's younger brother, as Detective Watts, and episode 10×14 which he simply describes as "crazy". But what does Simon consider as a crazy episode? "A little over the top, a little less tethered to reality, like in the past (episode) where there was an underground machine operated by mole people."
Mitchell explains how that storyline came about: "One of us read about the American president at the time who believed in mole people. He in fact wanted to fund an expedition to go the centre of the Earth to find mole people!"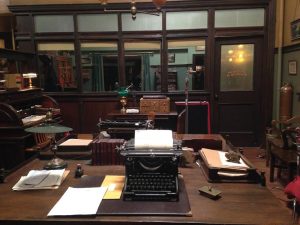 This fits in with the steam punk aesthetic that has featured prominently on Murdoch Mysteries. Craig "prop monkey" Grant appears to be a fan of this movement, and a nerd in the general sense. He gives us a sneak peak of what he is currently making in his down-time – a full size remote controlled R2D2, which he hopes to somehow get on to the show!
We ask Mitchell if they've considered doing another episode in the UK? He is certainly keen, especially as he wasn't involved in the first one, and it is something they have talked about though logistically and financially it's difficult to do.
During lunch we also meet Yannick Bisson. He's very charming and after spending way too much time discussing what doughnuts to try, we also discover a little trivia – he always wears trainers when his feet are not in the shot.
We got the opportunity to interview him later in the day "at home" in the Windsor House Hotel set. (WATCH the interview here)
For those who are  also fans of the Aurora Teegarden mystery movies that Yannick stars in, you'll be excited to hear he is due to film two more of these movies in early 2017.
Setting up for the next interview we discuss the advances in lighting technology with Chris, the "best boy" – an industry term for an on-set electrician. "There are different theories as to where the term came from. I heard some old-fashioned director of photography said to the gaffer, 'Send your best boy in to do this important job,' and that's where it came from." Chris has worked on Murdoch Mysteries for four years but has been in the role for 25 years, working in television and on movies, with stars like Robert DeNiro. "It's all LEDs now," Chris explains as he demonstrates turning night into daylight at the turn of a knob. "The technology has changed and it continues to change."
We round out the day with Murdoch's newest regular cast member Mouna Traoré. After a brief chat about clothing we got into discussing the ins and outs of playing Rebecca James, a black medical student in the early 1900s. You can see that interview here.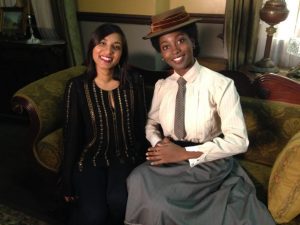 Away from set our Murdoch experience continues when we had the chance to hang out with Kristian Bruun, who plays Constable Jackson. You can always rely on the constables to entertain us with a comedic interlude, and Bruun relishes being the one to provide that. He would love to do a spin-off in the style of the Keystone Cops with the other constables. "We would do everything but catch a murderer – there'd be a whole lot of slapstick comedy!"
There will be six new webisodes this season. Bruun informs us they will feature the constables and Rebecca James travelling through time, helping her get out of trouble in the modern day. "They're full episodes but shot over four days each which was hard!" He clearly enjoyed making them though and seems eager for fans to see the finished product.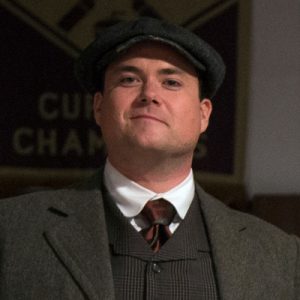 You may also recognise Bruun as Donnie Hendrix on Orphan Black. He stars as the husband of Alison Hendrix, played by Tatiana Maslany, and,  like many viewers, sometimes forgets that it's Tatiana playing five different characters. "You forget that it's the same person!" He is currently filming the fifth and final season of the award-winning show.
One fun fact about Bruun – he is a foodie, and gave us some great advice on top eateries in Toronto.
We were lucky to meet Bruun in a moment of down-time as he's also been busy on a shoot near Niagara Falls for his new movie Mary Goes Round co-starring You're the Worst actress  Aya Cash.
Murdoch Mysteries does not seem to be losing any steam(punk) and season 10 promises to be as exciting and fun as previous seasons.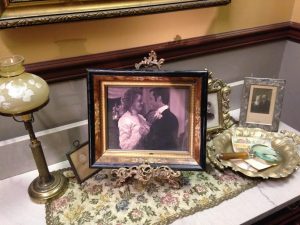 For more information on the show, follow @CBCMurdoch on Twitter or visit their Facebook page.
Murdoch Mysteries currently airs on Mondays on CBC in Canada, and on Alibi channel in the UK.