City Of Heroes 2: Meet and Greet with DC TV stars!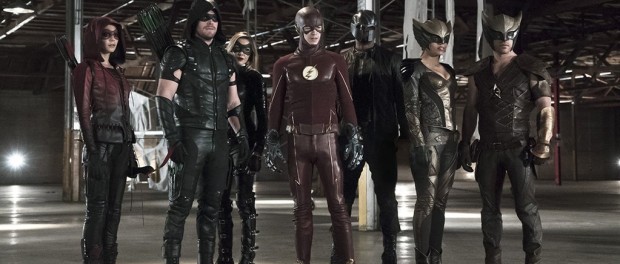 Birmingham is not usually a hotspot for popular actors but it seems like most of the DC TV world has decided to take a hiatus trip here – for City of Heroes 2 convention. As cast from Arrow, The Flash, Supergirl, Gotham and Legends of Tomorrow arrived  I had the chance to chat with Tom Cavanagh, Brandon Routh, Charlotte Ross, Falk Hentschel, Robbie Amell, Itali Ricci, Danielle Panabaker, Peyton List, Keiynan Lonsdale, Ciara Renee, Amy Gumenick, Michael Rowe, Cory Michael Smith and Sean Pertwee – phew!
Chat nuggets:
Ciara Renee (Legends of Tomorrow) – took a train to the Con! She didn't know that she would end up with Brandon Routh's character Ray till she read that script: " They sprung that on us but I was like oh, uh ok! But of course I' m happy about it – it's Superman!"  But Brandon is very open to suggestions about their scenes together. She told us working on TV is much harder than theatre due to the long days. But she seems over the jetlag and looking forward to some LA parties with upfronts next week!
Tom Cavanagh (The Flash) : After a long discussion about Liquorice Allsorts, Tom told us pretty much all the comedy between him an Cisco is ad-libbed. "Any time you see a pop-culture reference is [Carlos Valdes] and I improv-ing." During hiatus, Tom wrote and is starring in a short film with The Flash himself Grant Gustin, about two inept bank-robbers. Apparently it's comedy and rude and "it will show a very different side of Grant". Before this Tom is filming a movie in Utah and Grant in Atlanta. Tom also told us about his R rated podcast "Mike and Tom eat snacks".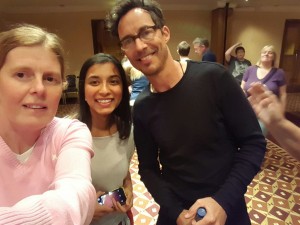 Falk Hentschel (Legends of Tomorrow): Falk told us he lived as a struggling artist for some time in London, after being born and raised in Germany, though he now lives in  LA. Though LoT films in Vancouver he commutes from LA – "I fly in and out because they like to kill me a lot!" It's weird for him to get killed the same way (with a knife) as he feels Carter would see it coming. "Plus you run out of faces, because you get stabbed, do a face and fall over". During hiatus Falk is shooting a German film in Lithuania!
Keiynan Lonsdale (The Flash): Keiynan's snack of choice is chocolate, but in the cinema he advises mixing maltesers in with your popcorn: "It was not my idea but it's really good, and if you introduce it to anyone they'll love you forever!" Aussie Keiynan is currently doing a mini European tour with his mum, hanging out in London before heading to Rome.
Charlotte Ross (Arrow) immediately hugged us and gravitated towards fanisma.com's @loeffie's pink top! She told us she had a lot of fun filming episode 406, mis-cooking the chicken! When she reacts poutily to e.g. Felicity being called names by the bug-eyed bandit, that's all ad-lib. "It's so nice to meet and work with somebody who you naturally have respect and love for. Emily is so talented and down -to-earth, and we share a passion for animals which is a big thing – I really love her a lot so I'm blessed  that it comes across on-screen."
Charlotte on Olicity: "When I was planning their engagement party I stole a feather!" I think my character is honestly just really excited for them- [Donna Smoak] had a rough life but is still optimistic about life". So does she want Oliver and Felicity to work things out? "Well I think Mama Smoak wants them together – I just want [Felicity] to have a boyfriend! But I don't know he's the Green Arrow." SPOILER ALERT: In the next episode Donna finds out Felicity works with Team Arrow but doesn't find out Oliver is the Green Arrow! So how does she react? " I think as a mum that's going to change things a little bit because she's in harm's way." So perhaps she won't support her being with the Arrow. Talking about her on-screen maternal moments of advice she says it's funny because Emily gives her good advice too. She was upset to find she wasn't having photo-ops with Emily this weekend – a feeling reiterated by many of the attending Arrow fans.
Italia Ricci (Supergirl) hinted she may be working with her panel co-stars Peyton List and Charlotte Ross. But is she going to be on Code 8 with her fiance Robbie Amell? "If he lets me! Probably, because it's filming in Toronto and my new show is filming in Toronto, so if he knows what's good for him I'll be in it!" Italia has shot the first episode of 'Designated Survivor' with Kiefer Sutherland "It's so cool, I feel like I'm with all these grown ups and I don't know what to do". Italia loved being mean on Supergirl but hopes she can return to the show as the good version of her character, to avoid the scary make-up. "The make-up took 5 hours to put on the prosthetic cheekbones, eyebrows, wig, and all the leather, but I couldn't eat as the prosthetic lips would start melting if they got wet."
Michael Rowe (Arrow): Apparently Michael gets hyper when he drinks wine, which led to a discussion about him spending a night in jail after defending a friend in a fight! He also goes to the same gym as director/ producer Glen Winter!
Brandon Routh (Legends of Tomorrow): Nursing a cold and a cup of tea, Brandon was looking forward to the hiatus with his family, after commuting weekly between Vancouver and LA whilst filming LoT, but still as amenable as ever. So will his character Ray ever find love with an emotionally available woman, after his recent heartbreak with Kendra? "I asked the producers that same question and they said maybe some day, but I don't know if it's going to be anytime soon." So is this the reason for Ray's recent angry turn? "They wanted to show that Ray could handle himself [without the ATOM suit]."
Danielle Panabaker (The Flash) was not fond of the liquorice allsorts on our table, and prefers mimosas! She is planning some London tourism during her hiatus. She is so happy she got to play Killer Frost and was aware from the outset that Jay was Zoom.
Robbie Amell and Peyton List (The Flash) came over and immediately started joking together that Peyton is not allowed back to the Flash set whilst Robbie is there just to avoid confusion between the other CW show they worked together on 'The Tomorrow People'!
Production on Code 8 will begin next year during Stephen Amell's off season, after a hugely successful kickstarter campaign. "It's an $8-10M production; we raised $1.7M and it blew my mind! That much money pushed us to be able to get Canadian grant money and tax breaks so it became a $10M production" – meaning they can do what they want with the film, so perhaps Peyton could be in it? "I need a baby momma" Robbie agreed, since in a change from the short, the film will feature the young boy as his son not his brother; " so it could be Danielle, Peyton or Italia!" But one kid on set is enough. Peyton added: "I could be the crazy one with the baby doll – I already have the bag!" Robbie explained she has a diaper-style bag which he likes to take the mickey out of.
Amy Gumenick (Arrow): Amy wears a red wig for her role as Cupid, but attended the Con sporting blonde locks,which caused the other actors like David Ramsey some difficulty in recognising her. So how was it returning to Arrow this season? "So cool, and definitely a surprise!"
Cory Michael Smith and Sean Pertwee (Gotham): Sean had been showing Cory the sights in London over the past few days who geeked out over the Trooping of the Guard at Buckingham Palace. Sean explained his reaction to that infamous slap scene with Selina in Gotham. "That was the toned-down version" and Selina needed to understand the gravity of her situation and feels the producers are brave to have done this.
Follow me @tanavip for DC TV and convention highlights, and let us know your favourite DC TV actors!