SHADOWHUNTERS: From the set of season 3!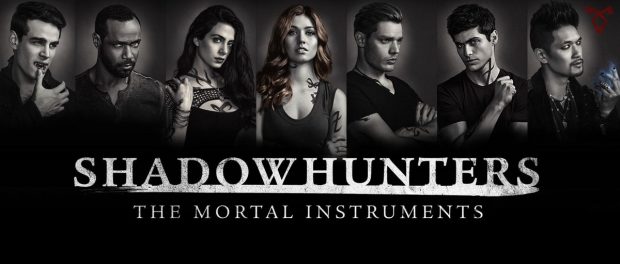 We popped down to the Shadowhunters shoot in downtown Toronto where we were lucky enough to see filming in full swing for episode 2 of season 3. The night shoot involved stars Kat McNamara, Dominic Sherwood, Alberto Rosende and Alisha Wainwright who play Clary, Jace, Simon and Maya respectively. They were dressed up and looking stunning for their restaurant scene.
"It's a relatively short night tonight" Dominic says. "We can film till 6 or 7 in the morning on different things." They were filming two scenes that night plus 'wild lines' which Dominic explains is where they quieten the street and the sound boom picks up lines from previous scenes they didn't get. Of course night shoots are commonplace on the teen supernatural drama based on the books 'The Mortal Instruments'.
Despite being on a break Dominic maintained his American accent. "Yeah I keep it all the way through, then once I'm home at night it's gone."
As we continue to talk the conversation naturally leads to discussion of Dominic's amazing heterochromic eyes. "Yeah, because it's the best feature. The character in the book has gold eyes, and at the beginning of season 2 you see those flashes in his eyes. So I brought it up to the writers and said that wouldn't it be a cool nod to all the book fans that when these powers, these runic abilities come forward, that his eyes flash gold with the rune, and they wrote it in. It's like something in Jace's soul is happening, which I like. And Clary doesn't have the eyes, no, which supports my theory that I'm actually the lead! Nobody else seems to agree with me so far, and I tell Kat that all the time – we argue that all the time! I keep coming up with ways they can kill Clary in the show and Jace is the lead and they all just ignore me!" Clearly it's in good jest and the impression that the cast are good friends and decent people is corroborated by the crew.
One burning question we posed: when is it going to come out that Jace was with Maya? "I can't tell you anything! But there are a lot of surprises this season. You came on a spoiler free day though which is good." Dominic does suggest his character's storyline is going a very different way from the books. It seems the book narrative where Sebastian use Jace as a puppet to do his evil bidding is not likely to feature, though it's still early in the season.
Dominic says his death scene in the season 2 finale was horrible to film but did give us some fun trivia – the angel Raziel also has heterochromia and is voiced by Anthony Head a.k.a. Giles from Buffy! "I loved that show! " he admits. Also it turns out that shots of Jace and Alec running in that scene were actually stunt actors, and their faces were subsequently superimposed on by CGI.
As we watch background actors walk back and forth along the street we notice old street lamps and smoke blowers which had been brought in to, I presume,  give the night a more mysterious feel. A rain machine had also been brought in to moisten the road and create a 'just-rained' feel. Ironic considering there was torrential rain earlier in the day. Hot rain is used to keep the actors from getting hypothermia if the scene calls for them to get sprayed.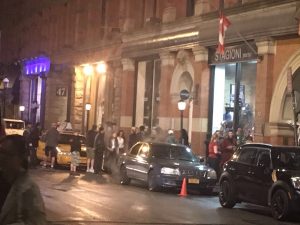 According to the crew we can expect a lot of changes to the standing sets this season. With only a six-week hiatus between shooting it's been a lot of work for the construction team. With so many night scenes in the show, the crew end up working in the dark when on set in Missisauga. Only the sets in use are lit, meaning the crew are often working by flashlight! Most learning is on the job, because there's no degree you can do to e.g. make a styrofoam pole look like metal! It also turns out the little red car used in a chase scene against a black SUV actually belongs to crew member Tony. "Now my car's famous!" he jokes. Luckily he got his car back in one piece! Season 3 is raising the stakes and looking even better than season 2;  'Even the actors are getting better!' Expect more fight scenes too. One of the new filming locations is a farmhouse just outside Toronto. Casa Loma has also been used to portray the headquarters of the Iron Sisters, and the Shadowhunters team left them a little gift after filming there. "The bridge that you see into the purity pool – we built that. And we left it there, so if you visit Casa Loma you get a double whammy (for Shadowhunters fans). It cost about $10,000 Canadian to make".
So we went to check it out: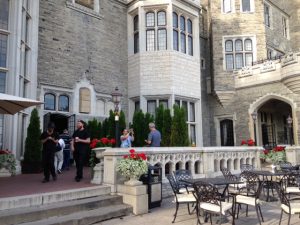 It seems like they have finally moved the bridge, and with other events including a music concert in the grounds, it's to be expected. But that didn't diminish the extraordinary setting and beautiful surroundings that makes Casa Loma such a visual gem. No wonder films like X Men, Chicago, and of course The Mortal Instruments filmed here also.
Check out the gallery below with pictures from other Shadowhunters locations and partying with the cast!
This slideshow requires JavaScript.
Season 3 of Shadowhunters is expected to premiere on Freeform in the U.S. in January 2018. Shadowhunters is available in the U.K. on Netflix.