HVFF: Lord Mesa Interview [VIDEO]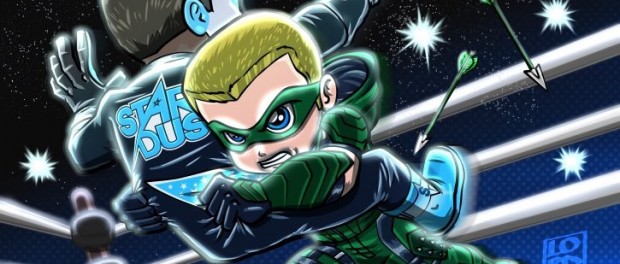 Artist Lord Mesa's captioned comic book sketches and drawings have garnered a great following amongst fans, especially in the superhero TV genre, for shows like Arrow, Gotham, The Flash, and also Marvel Universe characters.
Since starting out, drawing caricatures on Pier 39 in San Francisco whilst at college and teaching fifth-graders, his career has taken off and he now regularly attends conventions in the USA, to meet his fans, talk on panels and sell his artwork.
Despite a snow storm ravaging the East Coast dozens of fans made it out to chat to Lord and receive a drawing. We took some time to meet the man behind the art, and find out his guess for 'Who's in the Box?' in Arrow Season 4!
Special thanks to Lord's wife Marlena, and their whole hospitable crew.
You can follow Lord Mesa's artwork on Twitter: @lordmesa  & on Instagram: lord_mesa (lordmesa-art)
Currently his artwork is available to buy at conventions in the USA. He is next appearing at WonderCon in LA, 25th-27th March.