TROLLHUNTERS: Exec Producers on Season 2 and Creating the Series!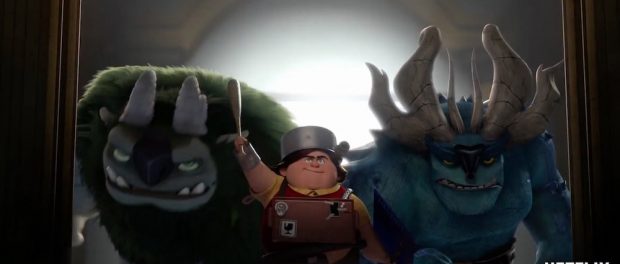 Trollhunters exploded onto Netflix in December immediately wowing fans and critics alike and swiftly securing a second season. While the show was the brainchild of Hellboy and Pacific Rim director Guillermo del Toro, he had an enthusiastic team of executive producers bringing the show to life, including Rodrigo Blaas, Marc Guggenheim, Chad Hammes, Dan Hageman, and Kevin Hageman. They were all at this year's WonderCon in Anaheim, ready and willing to discuss what went into bringing Trollhunter Jim and his troll mates (and enemies) to life, and tease us a little about season two.
"The world just keeps getting bigger – more characters, more locations and more effects! The Darklands is a world that is dying so there is a lot of death in it. Season two begins with a sequence that homages the beginning of  season one," explains Guggenheim. 
"All I know is in season two I cried really hard," admits Kevin Hageman. "A lot of emotional good stuff is going to come out".
Dan Hageman adds, "I laughed at my brother. But definitely the stakes are getting much higher in season two." 
We see Jim's armour change before entering the Darklands, and this will come with new capabilities, but the execs aren't ready to share more on that just yet. They do clarify that the Darklands is part of the same world, rather than another dimension, but a sort of prison realm.
Blaas reminds us that although Anton Yelchin, the voice of Jim, tragically died last year, he had worked on season two: "We want to honour what he did in the series and his amazing performances. And he did his best work in this coming season." 
Yelchin will actually voice Jim for all 13 episodes of season two. Although the team are not willing to name Yelchin's replacement they think they've found someone very well suited for a variety of reasons. This will likely be announced by Del Toro himself in the near future.
Fans can now get involved in season two themselves by designing a troll and entering the Trollhunters Fan Art Contest for the chance to have their design featured on the show. "I'm excited to also announce one piece that we select Dan is going to get tattooed on him!" Guggenheim jokes.
The team started making trolls back in 2014. Each troll is made from stone. "The first thing we do when we start thinking about how to create a troll is what mineral they are from," Blaas explains. "If we think of AARRRGH he comes from this rough jade and we think of the potential for how that's used, and we think of the enamelling and the weapon. So that's kind of the inception of each troll."
Hammes adds "We came up with a lot of ideas about how trolls are born; we haven't shown that yet but that's an idea that's been kicking around in all our heads. I always wanted to see a young troll and a baby troll."
Marc explains they use a complex Excel spreadsheet called "The Grid" to keep track of all the trolls and what's happening with each character. "We're tracking their emotional journeys throughout the course of the season. At the end of the day that is a very loose template that always gets changed without exception but knowing that we have to hit those emotional tentpoles throughout the season is a big help."
They also created new characters, like Jim's mum Barbara , who were not in the book. "Guillermo was really encouraging us to find the best stories for the series and not just use the book so we made adjustments and Barbara we thought would bring a great dynamic."
They admit they were worried whether the show – which they are clearly proud of – would find an audience.
"To see the fans loving it was like, 'Ah what a relief. I'm not crazy!'" says Hammes.
"Guillermo put us up to a really ambitious show; at times we wondered are we really doing it justice and have we stepped in too deep," adds Dan Hageman, "but obviously it's turned out really well."
"I think our favourite is the fan art, and now fan tattoos apparently!" Guggenheim chips in.
The speed at which the project went from inception to screen was especially gratifying for the team, as similar projects often take years. And now they are being recognised for their accomplishments with a record seven daytime Emmy award nominations – and six wins! So did the team realise they were attempting something ground-breaking?
"Before we started animating," says Guggenheim, "Rodrigo had put together a single shot I think of Jim in his armour and Clare touching the amulet and when I saw that I thought, 'Oh my God, this doesn't look like a TV show!' We'd been saying it was going to look like a movie – it's one thing to say it but to actually see that image blew my mind."
Guggenheim wrote the pilot, and along with the Hagemans, drove the writing process for the first season. Dan Hageman has an interesting way of describing their writers' room.
"It feels like you're in a forest with a flashlight that only shines three episodes forward; you kind of have this idea of where you're going to go but you're not quite sure how you're going to get there. And we had a fantastic writers' room that had a lot of passion and fun. I feel like the tone of the show was the tone of the room, and that really shone through, so we're proud of that."
Although they must have a mental image of the fantastic characters they're writing about, all the EPs are happy to leave the actual designing to the designers. "Nothing we could have done would even come close to what they produce," says Guggenheim.
Kevin Hageman however has a confession to make: "I did sketch one troll but I don't show anyone. We attempted Angor Rot but it was nowhere near how cool it turned out."
So how many trolls are on the cutting room floor? "There's probably about 40 plus trolls," Hammes reveals. "In total we have over 70 characters and still growing."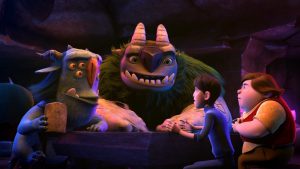 The show was originally envisioned as a feature film, based on the books by Guillermo Del Toro and Daniel Kraus, but Guggenheim ended up pitching Netflix a series – by accident. "I think we all felt a collective sigh of relief when we made the switch to streaming because the big challenge was taking the incredible number of characters and dense mythology that Guillermo had [created] and cramming it into basically 90 minutes of screen time – it was too much. So the moment it became a series, instead of trying to fit it on a postage stamp, we suddenly had an arena."
The show never shies away from complicated ongoing plots, and for Chad Hammes, trying to merge the televisuals and the complex narrative felt like "a one-two punch right at me." But he is pleased the team pulled it off – and that they're all still friends! "We're our own worst enemies as we have such high expectations".
To back this up, Blaas reveals they have a meme of Guillermo which they put in Chad's office that says "Your vision should always exceed your budget".
Blaas is in charge of bringing the action to life, and he relishes the challenge."You cannot just do one type of fighting, you have to keep adapting and keep growing the characters for a serialised story. And we have a great team of directors. In the fight in the kitchen in episode six I thought how will we keep the intensity going? And this reflects  the changes the characters go through. Numura is a changeling, Jim is going from a  place where not only it's a fun adventure but now the stakes are really high and people could get hurt; and Draal has to come from  a place where he's been humiliated by Jim to defending and protecting him. The animatics for us is the soul of the show."
Though the series appears to be for kids at first look, the team did not write with that intention. "I'd never written for kids before" says Guggenheim, "so I went into it not really trying to, because I also believe that kids can handle a lot more, in terms of sophistication and humour, than we give them credit for. And the world that Guillermo created is so vibrant and real – that's as much kid as you need. I think when you write for an audience of all ages, you get an audience of all ages."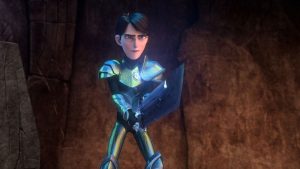 Blaas adds, "First and foremost we are the biggest audience for this show. That's why Trollhunters binge-watching sessions with Guillermo are so important – it puts us in the place of the audience. So if we are liking this then we hope the audience will to."
As the finale puts Jim in the Darklands, the team had a lot of discussion about what the Darklands would look like. "It was supposed to be very low end as we didn't have any money left!" Guggenheim reveals. "Then we're in the office one day and Rodrigo shows me the model for the Darklands and I thought, 'This is not what we talked about – this is huge!' But I'm a huge TV junkie and I love season finales that end on a higher level than where you began. Trollhunters is not the same show [by the finale] that it started out as; it's rare for an animated show; it's highly serialised and really feels like we're telling one epic story  as opposed to little stories here and there."
Before they leave the execs are keen to credit their artistic team. "We have quite a large team in LA helping us design all this stuff and its been about two-and-a-half years in the making trying to build this incredible world and vast amount of characters and its been with the help of many talented artists from five different countries and it's an everyday process that never stops seven days a week.
"Guillermo always says it takes the same amount of time to make a crappy model as a good model so it depends on the people you have and how you all work together to make that really good model. That's our goal."
Trollhunters season one is currently available on Netflix. A 13-episode season two is expected to arrive later in 2017.