Haven UK Fanclub Trip 2014 Part 2 – feat. Jayne Eastwood and Eric Balfour!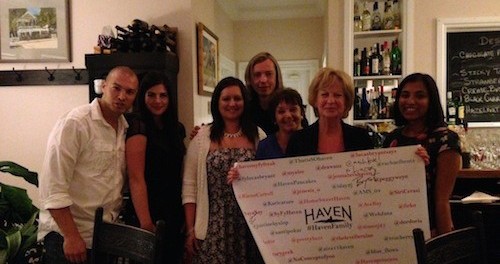 Morning #HavenFamily! Look at the view frm our Lunenburg hotel room! And yes that is the lighthouse we can see :)) pic.twitter.com/Xz4MUvwzV2

— tanavip (@tanavip) August 10, 2014
It was like looking at the opening credits from our window! I felt immersed in Haven. The docks where the 'Cape Rouge' had been and other buildings like the red Fisheries Museum featured on the show were visible from our ocean-view window.The pictures above include the hill where a church was destroyed in season 1 and the red building I believe used to keep Stu Pierce hostage in ep 211.
After saying goodbye to our hotel, we walked up the road to the spectacle of St John's Anglican Church – featured in the opening credits:
A busy day starting in Lunenburg- the #Haven family was seen around the town at the Church in the opening credits… pic.twitter.com/AV9djIRaip — tanavip (@tanavip) August 10, 2014
             Images: St John's Church   We were told that the building actually did catch fire like shown in the credits – spooky! Our Haven trio also walked past it in diving gear in ep 408. Then we headed down tothe docks: It was both exciting and sad to visit where the Cape Rouge once lived. ICYMI the Cape Rouge sank earlier this summer, but is still featured in the show as the interior is filmed in the Chester sets. An historic replica sailing boat, the 'Bluenose' is now moored in the main dock and was being set up for the folk festival when we arrived. The beautiful Fisheries Museum – used as a museum in ep 202 – was fun to wander round – and you can buy lighthouse earrings and maple syrup tea there.
At the dock where Duke's boat once moored:( & the fisheries museum featured in season 2 #HavenFamily #Haven5 pic.twitter.com/n6afd1iWxH — tanavip (@tanavip) August 10, 2014
Images: Lunenburg Docks & Fisheries Museum
We were thrilled to find this – Lunenburg Academy!:
Swinging about by Lunenburg academy featured in ep 301 #HavenFamily#Haven5 #WeLoveHaven pic.twitter.com/P41AqY5CTm

— tanavip (@tanavip) August 10, 2014
But heading out of town we discovered the piece de resistance – the Colorado Kid beach!
Images: Colorado Kid beach
If the production team ever decided to do a Haven calender or postcard collection, they'd have ample material!
Then things got decidedly creepy as we entered Mahone Bay and found Mahone Bay Centre A.K.A. Haven hospital!
Images: Haven Hospital
My most memorable outdoor scene here is in episode 405 when a possessed Duke pulls up, gets stabbed in the leg and runs through the side door with the 'Welcome' sign.
Eventually we made it back to the Haven epicentre:
Images: Welcome to Chester
You may have noticed me wearing the official Haven T-shirt, sold at the Village Emporiumin Chester. It's a great gift shop run by the lovely Angela, who as a fellow Havenite has also been helping fans with filming location details. The tees are really comfy. We really enjoyed hanging out, and she was amazing when we needed help with tech and local advice. Check out her twitter @Village_Emp_NS:
Then #HavenFamily went over to @Village_Emp_NS to check out new#Haven Ts- available internationally! Thanks Angela!pic.twitter.com/MmN67Bnbx6

— tanavip (@tanavip) August 13, 2014
Image:Village Emporium
We settled into the Mecklenburg Inn which is a beautiful B+B run by Suzi, another friend to the fans. The Inn has been 'background' in the series e.g. when we see the huge ball rolling down the hill in ep 102.
Images: Mecklenburg Inn
That evening we headed to Nicki's Inn, a restaurant B+B and home to Haven cast and crew only for the duration of their shoot. There we met up with the wonderful Justine (@justinehyslop) and Rob (@HavenFDRob), background actors on Haven and friends, among other things.
It was ridiculous fun to chat Haven in Haven with Haven actors! A few season 5 tidbits were naturally discussed. Without ruining anything I will say this: the Guard will be prominent this season and I for one am excited to see how our protagonists will fit in with the tattooed people this year, especially with regard to Dwight.
Justine has been acting on Haven the past couple of years, mainly as a waitress at the Grey Gull. She has now graduated to a Guard member and is most visible in ep 507. Rob has also been part of the Guard, though he doesn't know his Trouble. There is always some trepidation as to how long they will be on the show since it has such a high body count, but they really enjoy working on it. Rob explained how Lucas in particular has tried to make him laugh in scenes. Justine said he is not averse to making her laugh as well. Eric often ad libs. Justine and Emma (Lahana) talked hair care. There's been a bit of fun with guns this season. Though the background actors are 'housed' separately on set to the cast and crew, its relaxed and people do mingle. They've attended the wrap parties held at the end of filming. Haven is always looking for extras (but you need to be Canadian). They definitely seemed excited for the new season!
Nicki's has fantastic food and that night was carvery. We celebrated Sarah's birthday too; Nicki kindly making a special dessert for her 🙂
Images: Nicki's Inn
Partway through the night I realised that none other than Jayne Eastwood AKA Gloria the M.E. was dining next to us, and within no time we got chatting. She was so affable and chatty and kindly let me do an in promptu interview, so watch and enjoy!
Video: Jayne Eastwood
We continued to chat with the rest of the group. Justine recited a poem by Robert Frost which moved us all. Jayne shared pictures of her art – she tends to do watercolour paintings of landscape and portraits, and is really talented! Then Nicki, our chef, joined us and allowed us to take some poster pics in the restaurant.
Images: Nicki's Inn Poster Pics
Also I spotted this hanging by the bar – a present to Nicki from the cast:
Image: Cast photo
After that we headed to the Fo'c'sle pub to play pool and pose for photos!
Images: Fo'c'sle Fun
Thanks again to Justine and Rob for a late great night. Watch out for them in Season 5!