IN PROFILE: Glen Winter [VIDEO]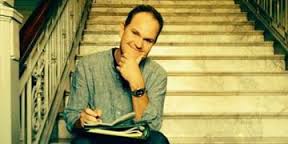 You may not recognise the name, but if you are a DC fan you've almost certainly seen a show that this man has worked on; Smallville, Arrow, The Flash, Supergirl and the upcoming Legends of Tomorrow have all benefitted from his talents as a TV director and producer.
We were lucky enough to meet up with Glen in Vancouver to tour the sets of Arrow and The Flash, and hear his thoughts on life in the DC TV world.
Background:
Glen was born and raised in Vancouver, Canada. From a young age he knew he wanted to work in the film industry. Luckily at that time Vancouver was entering a boom phase in terms of TV and film production (probably because of the beautiful settings and the tax credits) and Glen landed his first regular job on Smallville. He worked on the show for 10 years, earning 15 directorial caps, and winning an ASC award for his cinematography.
After, he started working on Arrow from the outset, directing some of my favourite episodes including the Season 3 premiere and the Flash/Arrow crossover. He is now a producer on these DC shows as well.
In the cut-throat world of TV, Glen has managed to build an impressive full-time career, yet still remains humble about his achievements and very appreciative of fans of his TV shows. "We are only here because of you guys – the fans" he says repeatedly, and that mutual appreciation remains as he moves into his newest project Legends of Tomorrow, being surprised at the crowd of fans travelling from afar and waiting patiently to see the cast and creators film their first few scenes, even late at night.
Glen on Supergirl and Smallville:
Speaking about Supergirl Glen lights up. He is clearly excited for everyone to see it. Glen attended the Paleyfest Flash/Arrow crossover episodes fan screening in 2014. He recalled it was a great experience, not only getting to watch his work with excited fans, but also because that was the place Greg Berlanti decided to tell him they were doing a Supergirl pilot and they wanted him to direct it! "I just sat through the screening in a daze" he explains, shocked and surprised to be offered the opportunity. It seems Glen has become the go-to guy for Berlanti when starting up all the spin-offs.
He also directed episode 2 of Supergirl and SPOILER ALERT he appears particularly fond of the scene with Supergirl and Astra battling in mid-air. Talking of Melissa Benoist he believes she is the perfect fit for the role, and is very happy she was cast. Unlike the other DC shows Supergirl is filmed in LA so Glen spends time there for this and for post-production work. As for the question everyone's been asking – will the show cross-over? – there are no current plans to do this; it would be too difficult to schedule. "It was difficult enough to do this with the Flash/ Arrow crossover – and they shoot on the same lot!"
Me and my boy Max with the Woman of Steel. #supergirl episode 102! pic.twitter.com/IFoiEzmQoL

— Glen Winter (@Glen__Winter) July 26, 2015
I like the fact that the show is utilising cast from the Superman family, with Dean Cain playing Jeremiah Danvers. With Glen's connection to Smallville I asked if there is a chance will we see any of that cast on Supergirl? Glen certainly seemed open to the idea, however those decisions would depend on many factors, though he would like to work with his friend Michael Rosenbaum again. Although with rumours of Tom Welling now being cast, we will have to wait and see. However Glen admits a Smallville reboot does seem very unlikely.
Glen on Legends of Tomorrow (LoT):
When we met Glen he was a few days in to directing the 2-hour long LoT pilot – which he had only 20 days to shoot – after about 3 months of prep work. "It's intense 14 hour days but I love my work and put my heart into it".
He explained that Vandal Savage will be introduced in Arrow and The Flash before LoT.
None of the footage from the original LoT trailer will be used in the show, though some scenes from this will be re-shot. Berlanti's team took the unusual step of making a standalone promo – which certainly worked to cause buzz. "Usually you don't spend all that money on a promo before the pilot. But it makes the most of the 'machine' that's already in place (the crew etc.)"
As a Prison Break fan I had to ask what it was like working with Wentworth Miller. "It was great" Glen replied simply. "I got to work with him first because he did the Captain Cold episode (The Flash episode 104 Going Rogue) and he was new to all of this". So how did they get Wentworth to agree to return to TV? "That's Greg Berlanti". Greg was also instrumental in bringing Calista Flockhart on board Supergirl.