On the Set of HARRY HILL'S TEA-TIME!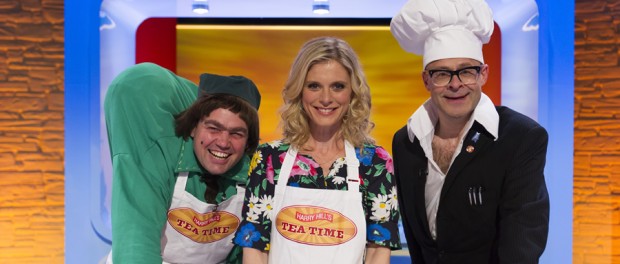 Harry Hill's Tea-Time came barrelling onto our screens this autumn with the crazy comedy and offbeat hilarious antics Harry Hill fans have come to know and love.
I went along to the filming of the most recent episode with Spandau Ballet's Martin Kemp to find out what it's all about and experience his unique brand of family entertainment.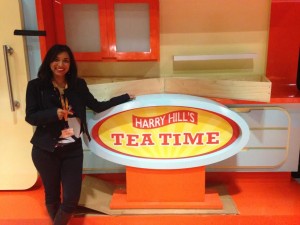 The premise of the show is essentially for Harry to interview a star guest each week whilst they make a meal, following Harry's wacky recipes to create some truly inedible concoctions. So who came up with idea? "It's all Harry", explained director Geraldine Dowd, "he writes it all. It's a wonderful insight into his world. Sometimes you read the script and can't imagine what he's doing, but it works! For example, the scene where they are wrapping up Martin Kemp in caterpillar thread whilst he tries to fill a salad bowl – I read it and just thought what?!" Hill's comedy may not be typical but there is an element of genius in the way he derives hilarity from his sketches and ideas.
There are laughs in it for everyone – catering to different senses of humour – but it's mainly slapstick family fun. "It's mental, but in the best way!" was audience member Tom's description.
The energy on set is great. Geraldine is sincere when she says "I work on many shows at a time, and I have to say Tea-Time has a fantastic atmosphere, and the people who work here are great".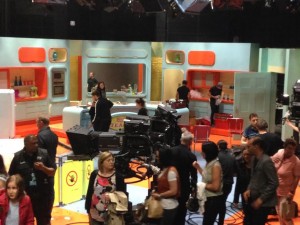 Harry himself describes the show as "silly family fun". However he may have regretted the fridge joke ( opening the 'smart fridge' to have it shoot milk at him) "I wasn't expecting it to come out with such force!" Despite multiple wardrobe changes and looking fresh, Harry admitted to me he still needed a bath to get rid of the remaining milk. It's brilliant to think someone's actual job is to hide in a fridge and lob food and squirt fluids in Harry's face!
Guest star Martin Kemp was particularly surprised by the milk-shooting fridge and the appearance of Saskia from Eastenders, played by Deborah Sheridan-Taylor, whom Kemp's character killed with an ashtray. Deborah came out of acting retirement just to do the show, re-enacting her ashtray death scene with Martin and Harry.
One scene Harry had found from Martin's old movie & edited to seem like he was kissing a woman whilst playing her like a clarinet had Martin in tears, but unfortunately didn't make the final cut.
Afterwards I asked Harry what led him from being a junior doctor to his current career as a star comedian. "I just decided I didn't want to do [medicine] anymore, so I just stopped applying for medical jobs." It's a brave move, ultimately terminating a hard earnt vocation, but Harry is excelling in his new profession, entertaining an audience of over 200 at Tea-Time and masses at home, as well as continuing to narrate You've Been Framed, a role he has performed since 2004, started whilst he was still making the BAFTA award-winning series Harry Hill's TV Burp.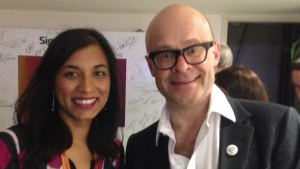 To me, the experience was surreal yet funny and entertaining. Hecklers and audience participation, a comedian named Ray who helped keep the audience warmed up whilst the crew set scenes, and antics between takes including a man doing the 'Full Monty', added to the effect.
It's also an interesting take on the celebrity interview, seeing how stars like Emilia Fox and Paul Hollywood react to the chaos as it unfolds whilst trying to answer Harry's questions. Check it out, you might just find it's your cup of tea!
Harry Hill's Tea-Time airs Sundays at 5PM on Sky1 in the U.K., with repeats on Sky2.