HOLBY CITY: Catherine Russell and Jemma Redgrave Interview! [VIDEO]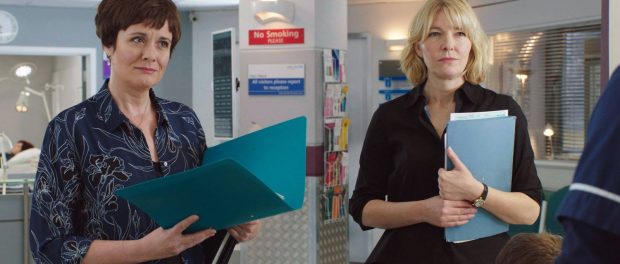 As surgeons Bernie Wolf and Serena Campbell in the BBC medical drama Holby City, actresses Jemma Redgrave and Catherine Russell have been making waves in the TV soap and LGBT world. Starting off as colleagues and developing a relationship on the long-running show has earned the attention of a hoard of fans who have given them the ship name 'Berena'. With their easy chemistry they're hugely entertaining and fans certainly turned out in their droves to see the pair experience their first Comic Con together, talk about playing a lesbian couple on TV, Jemma's infamous laugh, their best and worst set clothes, Jemma's role as Kate Stewart on Doctor Who, delighting in blood guts and gore, improvising on set, their love scene, messing up on set and what's in store for their characters, plus hilariously answer questions from the Twitter Tardis!
Holby City Series 19 continues to air on BBC One in the U.K.