SHC2: THE FLASH/ARROW PANEL & HIGHLIGHTS!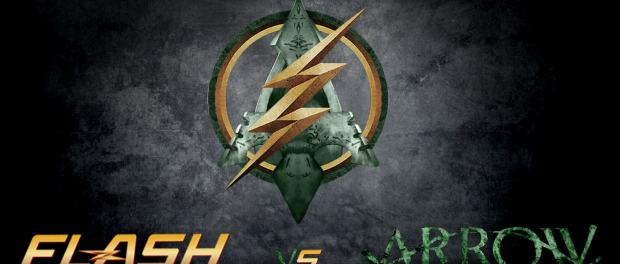 Superhero Con 2 took place in Paris last month, delighting fans of The Flash and Arrow by bringing together some of the stars of the shows,  as well as special guest Jason Mamoa, for a DC themed convention.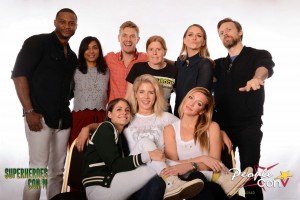 Fans were treated to Colin Donnell singing, Emily Bett Rickards discussing Olicity and even David Ramsey doing an impression of Colton Haynes ziplining as Roy [see video below].
#SHC2 @colindonnell starts his panel with @MzKatieCassidy singing for the crowd! pic.twitter.com/8x7tt5qqKJ

— TanaviP (@tanavip) June 11, 2016
Convention newcomers Teddy Sears and Shantel VanSanten were unexpected treats for fans of The Flash, spending time getting to know fans and sharing experiences about the shows.
I even got to witness Shantel's artistic handywork when she drew herself onto my Flash cast poster. Not to be outdone, Rick Cosnett then followed suit – adding a dark-haired Eddie, complete with gun and badge!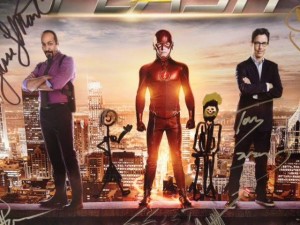 Many fans told me their highlight was David Ramsey's meeting room – where a handful of fans go to talk to the actor for half an hour – except they were questioned by him! It's something special when an actor fanboys about his own show with his fans. It's clear he takes on board fans' views, whether or not it affects any change in the show. And the fans showed their appreciation by shouting 'Daveeeed' (French pronunciation) repeatedly, rock-star style, as he passed them in the hall.
There were so many entertaining moments during the SHC2 weekend, but the final panel was a great ending.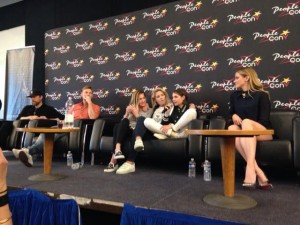 Endearingly nicknamed  the Flarrow panel, some great fan questions drew even better answers from the actors Teddy Sears, Rick Cosnett,  Emily Bett Rickards, Katie Cassidy, Willa Holland, Shantel VanSanten and David Ramsey. Check out what they had to say:
Q:How was your first day on set of Arrow/ The Flash?
KC: I was really nervous -worried I wouldn't remember my dialogue, but luckily I did.
WH: the night after the first night of filming Stephen, Katie, Colin and I had a couple of drinks – and it was this beautiful bonding beginning experience to our whole season.
Kc: the night I wrapped the pilot we all (myself Stephen Willa and Colin) ended up drinking whisky on my hotel room floor till 5 in the morning, passed out in like a circle. No one really remembered much except for waking up to Stephen and Colin thinking they were kissing one of our necks and it turned out to be each other's! So we got real close, bonding experience from day 1.  David you were there in spirit…
DR: in spirit!
If David was there apparently things would have got a little crazy – we can only imagine 🙂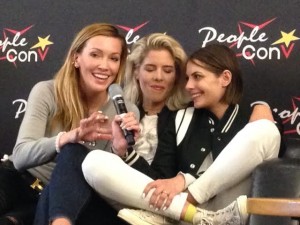 Q: Who makes the best blooper reel on set?
Willa first replies John Barrowman to which EBR agrees "absolutely!" Then Willa changes her mind to Emily who responds "absolutely not!"
WH (to EBR): Any time your butt gets slapped it's fantastic; its ended up on a few bloopers, which Emily can't deny.
Q: If you're watching Game of Thrones, who do you think will end up on the Iron Throne?
WH: Arya! No I know that's not gonna happen. Definitely not Jon Snow because he's gonna become part of the White Walkers right? Cersei! I'm kidding.
Q: what is your best memory on set?
EBR: Amanda Poorbutt (laughs) which goes hand in hand with 'Felicia force' which was also my favourite moment on set!
Emily explains KC said the latter  instead of the police force and substituted the former for Nanda Parbat.
EBR to WH: what's your favourite moment?
WH: any time I get to slap your butt?
EBR: correct answer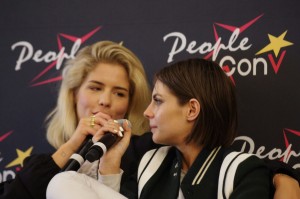 KC asks DR to re-enact CH coming down from the wire and he obliges:
DR: yeah, that was weird.  There was a moment where me KC and SA are watching as Colton is supposed to be coming off a burning building on a zip line (ep412), and we are supposed to be responding to him getting to us, as the director is shouting 'and he's getting closer! Closer now, but not quite as close as you want him to be!' Over and over again… watch David's cute imitation below:
DR: Apparently it might be in the blooper reel. There's a lot of silly antics on set- a lot of people cursing when they miss their lines…
RC: I can't really pick one moment. I really enjoyed the whole first season. I think the scene where I was high on drugs in the hospital bed was one of my finest days ever because I just went over the edge!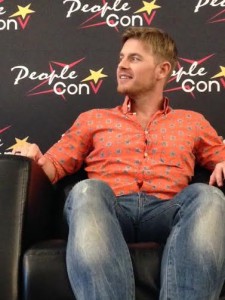 TS: I don't know that I have one favourite moment, but like Rick said, it was really fun to join the cast. I was welcomed very warmly by everybody. It's a great group on Flash, who are all really good friends and I was very lucky to have been received as one of their group right away. I'm a fan of all of them as actors, so I was lucky. That's kind of a boring answer, but truthful!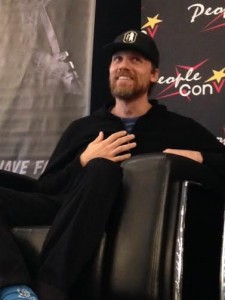 SVS: I don't have a favourite either but working on a superhero show's so different from anything else. Doing the stunts and being involved with the villains, that aren't actually villains and they're people or dinosaurs on stilts  -things you see and think this is never gonna look cool, and then it does.
Like the moment where the Flash comes in and I'm tied to the chair. They brought out this air canon and asked me if I wanted ear plugs. I had no idea what it was and I said no, 'cos I'm a tough girl, but I should have had them because it was like a hurricane wind blast and my reaction was awful. They had to do like 3 takes because I just kept laughing and telling them that they were blowing me too hard!
I have to say some of the best moments were watching the French translations of answers such as this, which had the cast and audience laughing!
CONTINUED ON PAGE 2…