THE FEW: Superheroes are coming to London!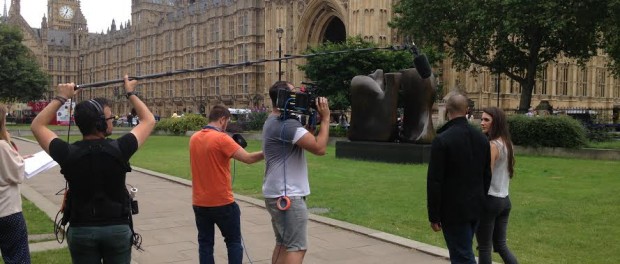 There is no denying we are currently in the midst of a superhero boom.
Alongside powerhouses DC and Marvel, new content is continuously emerging from other American outlets like NBC (Heroes, Powerless) and Nickleodeon (Teenage Mutant Ninja Turtles) .
It's heaven for fans of the genre and now it's inspired a group of British comic book fans to bring superheroes to London, in a new online TV series called The Few. I went along to set to find out what it's all about, and whether I should be afraid for the fate of the capital city!
The producers had chosen an impressive location for their pilot shoot – outside the houses of Parliament, and as I pitched up showrunner Sam Benjamin was preparing with the crew to shoot the first scene.
Set in modern day London, the show centres around a vulnerable group of people, including Christian (played by Vincent Jerome), a homeless ex-soldier, University student-turned-lab rat Anna (Rachael Holoway), and mysterious ex-bad girl Jamie (Kyla Frye). They had volunteered to take part in a medical trial, and come to find out that they have developed special powers.
"It's set at a time when Britain is facing a whole new kind of challenge", Benjamin explains. "Our character Christian believes the government is imploding, we're overpopulated and there's social unease, because we've lost control. He believes they are the chosen ones to take the country forward. He's a bit of a Ra's al Ghul from Batman".
Sam created the show alongside film-maker Sam Bradford. It's certainly a passion project for the two comic book fans. "We both saw Batman V Superman: Dawn of Justice, and started talking afterwards about the premise of a British superhero universe. We wanted to make something realistic and grounded in terms of sci-fi realism. Then we thought what if it's just three people affected, by this one thing, but they're all in different places in their lives and they're very different people?
Exactly one year after the medical trial they all start to notice strange things happening to them, and the story picks up just after this point and it's about what's going to happen next – how's the world going to find out about them, are they going to have good intentions or bad intentions?"
Sam describes the tone of the series as similar to  Burton's Batman, dark but with light moments. The show also emphasises it's British roots through symbolism, dialogue and some beautiful famous backdrops, including Big Ben.
"We wanted to showcase London, and we think that will appeal to an international audience." The team have also tried to create a more cosmopolitan show. "All the superhero universes are so full of white men, because they were created in the '40s, '50s and '60s; if you're writing it in today's London it's not going to be like that is it? So we wanted to make it inclusive and diverse, and create some powerful roles for women because A)  that's the real world, and B)  it's not done enough."
Between gas men loudly drilling behind, variable light and even a group a tourists who decided to include the set in their tour, I met director Phil Thomas as they were trying to film a single scene which included Christian using his powers. The final product will include visual effects.
Director Phil explained they were using the same family of cameras that was used to shoot The Revenant, giving high quality realistic  images.
There will be 6 mini-episodes in the first series, ending in a big showdown.
I for one am particularly excited to see this fight, given that Rachael Holoway is a black-belt in Taekwondo, though that wasn't a reason she was cast. Meeting her on set, she was clearly enjoying the shoot. "Who doesn't want to be a superhero or super villain right? Anna is completely lost – she ultimately became a lab rat. That's where her life was going until Christian intervenes and she finds camaraderie with him. She's vulnerable, easily persuaded and I think it's safe to say she gets pretty mean!"
Holoway also plays a character in popular video game 'Sudden Attack'. She explained unusually the producers wanted the human versions of the existing characters. "As a black belt I get a lot of really cool random fight parts- running round with an AK that is bigger than you, it was so much fun!"
I then met actor Vincent Jerome, who plays Christian. He is also a comic book nerd and admitted to practising his superhero power move at home.  "I had to trim it a little for the shot but it looks good, though I think I may have strained something in my face!"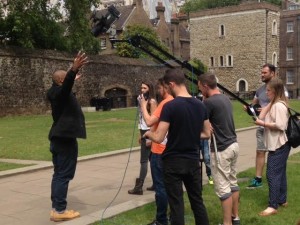 Continued on Page 2 – click below!