LEGENDS OF TOMORROW SEASON 3: Victor Garber and Casper Crump Interview! [VIDEO]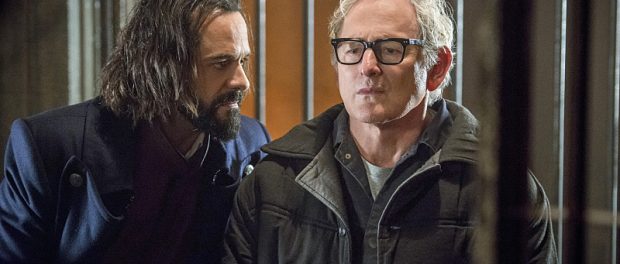 From Argo to Titanic, Victor Garber has graced the Oscars Stage multiple times as a legendary actor. Now he is making his mark as a legend of a different sort in the DC TV spin-off show Legends Of Tomorrow. Many fans will also recognise him from cult hit spy show Alias, as Jennifer Garner's father Jack Bristow, becoming so close to his co-star that he officiated her wedding to Ben 'Batman' Affleck! In addition to acting in a plethora of acclaimed films and TV series, Garber has earned a fair few awards for his musical talents in theatre productions. Attending his first Comic-Con, he sat down to chat about his role as genius science professor turned time-traveller Martin Stein in The Flash and now Legends Of Tomorrow, and brought along co-star Casper Crump who plays his nemesis Vandal Savage in the first season of the show. The pair discussed Vandal's possible reappearance, Season 3 hopes, and even shared a musical Day-Oh!
Legends Of Tomorrow returns for Season 3 in October, premiering on the 10th in the U.S.A. and TBA in the U.K.