LEGENDS OF TOMORROW Set Visit Pt 2: A day on location [VIDEO]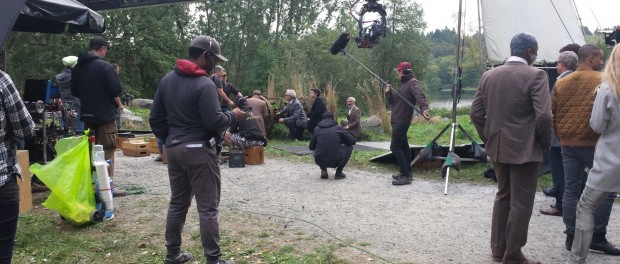 Legends of Tomorrow is set to premiere in the US this week, and buzz is escalating around WB and DC TV's newest production. Here at fanisma.com we were lucky enough to spend a day on the secret set of the pilot episode, getting a sneak peak of what's to come, interviewing the actors and chatting to the production team to find out what it takes to make this much-anticipated comic-book caper. (For all our behind-the-scenes photos see our slideshow at the end of this post, and check out Part 1 where we fangirl as we watch LoT's first ever shoot!)
We headed to Deer Lake Park on the outskirts of Vancouver where LoT's production team had set up in a field overlooking the lake. By our arrival mid-morning things were well underway. In fact, looking at the call sheet director Glen Winter's start time was 5.45am!
It was day 4 of the shoot and after some early hiccups they were behind schedule but the team were very calm, friendly and running smoothly again, setting up for an action scene involving Brandon Routh, Arthur Darvill, Victor Garber and a new character Professor Aldus Boardman (played by Peter Francis James, first seen in Arrow episode 408) – running!
One of the first things I noticed was equipment everywhere – from a camera on a crane to cylinders of gas. A little tent housing the Director of Photography David Geddes had a small array of monitors, linked to each camera.  In front was a storyboard, showing sketches of the scenes with instructions about the order of shooting. "We don't storyboard everything" Glen explained" but when we do an action sequence it's a good way to keep track."
Victor Garber soon joined us and we immediately hit it off. He decided he wanted me as his new assistant – and I was very willing! Victor explained he lives in New York primarily but had been back and forth shooting 4 episodes of The Flash before starting LoT. We discussed travelling around Canada. "Newfoundland is one of my favourite places" Victor told us. "We shot a show there in St John's at the very tip of Newfoundland and it's like the place that time forgot. It's beautiful, the people are amazing and I fell in love with it."
Victor had been on set for 4 hours by that time and was yet to start shooting. So what does he do in that down-time?
"Try to stay calm, meditate a lot, play solitaire on my phone and try to do a few emails on my phone – which don't always come through [on location]. It's a study in patience, but it's not always this way – they were having some difficulties today. It's usually an hour, hour and a half before you work."
So does it take you time to get into the role of Prof Stein?
"No, not at all. You just get me out there and I just have to remember the lines and I'm fine. Tomorrow's a big day in a market, set in the 1970s. I'm looking forward to that actually. I have a couple of challenging moments, or more than I've done so far. The first day was just introductions, the Friday (day 3) we shot on the roof till late night, and that was all choreographed because there were like seven people, and with that many it takes a long time to shoot. Glen's great – the way he shoots there's not [stopping and starting] and as an actor I love that.
So in the 1970s scenes will you be changing your look?
Yes, it's a subtle change for me; more fun for the girls.
I have to say on The Flash I loved your dynamic with Robbie Amell.
"It was fun! I love Robbie. I miss him, but the new Firestorm Franz Drameh is fantastic."
We also had to mention Victor's fantastic show Alias, and ask, with all the reboots happening whether Alias could possibly return? Unfortunately it seems there's no hope for this.
Brandon Routh and Arthur Darvill then appeared and with Victor the banter soon ensued as a mini chair war broke out. They seem to have bonded already and have a good chemistry together off camera. Check out our on-set interview: