THE FLASH Set Visit Part 2: Touring the Studio! [PHOTOS]
We took some time to explore the rooms of the CCPD in more detail, staring in wonderment at the fantastic set dressing and police memorabilia, and pretend to be Captain Singh! Check out our photo slideshow below.
Have you ever wondered, given that Central City is a fictional, how they decide on the geography for maps and place names? That's down to the art department, though they use their comic book knowledge to help them, trying to stay as true to the comics as possible.
Going back into Jitters it was lovely to see it with the lights on and check out some of the neat changes they had made for Season 2, such as signs for The Flash coffee referenced by Oliver in episode 208. The lightness in the show mirrors that which appears off-screen in little inside jokes seen around the set. Someone had labelled a stack of director's chairs for each specific actor using their comic book figures, and it seems one lucky crew member got a beer named after them!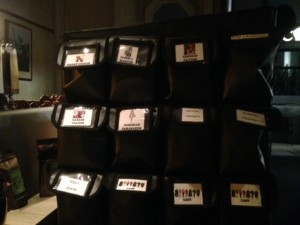 As Grant and Shantel entered for some down-time we left them to relax and continued towards STAR labs.  Entering the set we were oblivious to the danger above us – apparently many crew members injured their fingers on the ceiling gratings. That was soon forgotten as we took our opportunity to fake run on the treadmill 🙂
After viewing the West house and noticing intricacies like the wine bottles in the dining room of the house, which I love, we met Marianne, a set dresser. Her job is to add such details to the sets.
"It's got to feel real. It's fun and it's a skill you develop over time to make those spaces feel real and authentic. Taking care of it is part of our job too – we dress, wrap, maintain, clean – but I love it." So what would Marianne like to see as a set dresser?  "The cleaners on Star Trek – that would be my favourite episode!" Amanda suggested she watch Space Janitors  – a web series about the cleaners in Star Wars!
So how does one become a set dresser?
"I had a background in tech theatre and window dressing, and I've always had a love of colour and design, so all of that fits in, but people come from different backgrounds."
With the DC shows they obviously have that comic book look so do you have to look at the comics or do you just decide on the look with the producer?
"I don't look at the comics myself but I do see the concept drawings. We have what's called a set deck bible, we have set lists, meetings – a lot of visual information comes down to us from our department head with instruction on how to execute those things. It's one thing to say we are doing a sci-fi show, it's another thing to have a certain standard in terms of details, materials and what-not, and they help set those standards for how you execute the look. But deciding the look happens way above my head – it's the originators of the series, the production designer Tyler who is fantastic, and the buyers, and then we get a bit of stuff to play with."
"Tyler reads the comics and has everything in his office" Amanda added," Andrew Kreisberg is a huge comic book fan, he's awesome – I think they strive for authenticity."
Do you have a favourite set from Season 1?
"I quite like the West house, and how it's developed over time – there's more layers, more personality, more personal effects. I liked dressing Barry's old house for the scene with Sherry (the in-joke being Sherry liked to drink). It was a very posh single ladies' arts and crafts house. But there's lots of fun stuff in Season 2 too."  Amanda's favourite is Jitters.
This slideshow requires JavaScript.
We returned to the production offices and asked Ryan about any fun experiences on or off set.
"Whenever I visit set Grant is tap dancing. Read-throughs are quite fun because they take it seriously but there's quite a few laughs and flubbed lines. Jesse Martin specifically is very funny and improvs a lot of lines just to get a rise. The same with Carlos – his timing is impeccable and his comedic delivery. To be honest he is quickly becoming my favourite character. He is that comedic release from all that seriousness. With his character traits I think a lot of people can find similarities with their own personalities. We all have little quirks that we like to think make us unique and he kind of embodies that. I love Cisco and he's really gonna break out this season."
As we thanked him he returned the gratitude.  "We're glad the show has such a global reach. We can't forget about that and it's really nice. We're making a cool show that a lot of people are really enjoying so it's good. Season 2 has lots of great characters, lots of returning characters, another crossover episode so it's good. Whereas Reverse Flash was Barry's worst enemy, Season 2's villain (Zoom) is his worst nightmare. It ups the stakes for the entire season and it's a big mystery – even we don't know what's going to happen. There are few surprises in life so let's keep it that way. It's gonna be good!"  So far I have to agree. I can't wait to see how they take down Zoom!
The Flash Season 2 returns on 21st January in the US on the CW, and in March to Sky1 in the UK.
Check out Amanda's movie The Devout on their Facebook 
As always we love to hear from you – comment below or tweet me @tanavip!