MURDOCH MYSTERIES: Season 11 Set Visit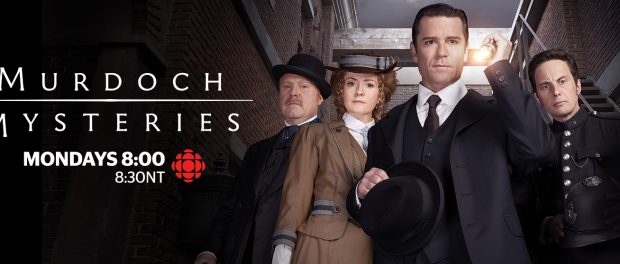 150 is an important number for Canadian period drama series Murdoch Mysteries, which has become a world wide cult hit.
The series has aired over 150 episodes, with episode 150 being the spectacular season 10 cliffhanger finale. Expect nods to Canada's celebrations for 150 years of Independence this year. Plus Thomas Craig, who plays Brackenreid, has been celebrating 150 years of his favourite football team – Sheffield Wednesday!
"But Sheffield Wednesday's birthday is two months after Canada's," he's quick to point out; Brack certainly knows his priorities!
And celebrate they should as very few shows can boast hitting the 150 episodes mark: even fewer can achieve this whilst still maintaining a strong fanbase, viewing figures and fresh story ideas. But Murdoch Mysteries has maintain all those standards, and this season is shaping up to be as good as ever.
We went on location in Cambridge – the one in Canada, not the UK – for the filming of episode 12 to find out more about this landmark season. Given the huge five-character cliffhanger season 10 left us with, I was a little apprehensive as to what we'd find out – and we found out a lot!
We chat to Murdoch Mysteries star Yannick Bisson (Detective Murdoch), fan-favourite Thomas Craig (Inspector Brackenreid) and new series regular Daniel Maslany (Detective Watts), so fair warning – season 11 spoiler alert! 
Season 11 currently airs on Alibi channel in the U.K. and on CBC channel in Canada, on Mondays.
Catch our exclusive set tour and Season 10 interviews here!